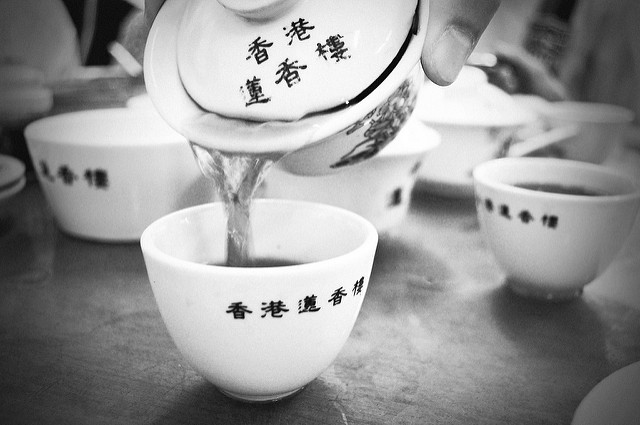 Yum Cha is a long held tradition in Hong Kong and one of the favourite pass-times. However, there seems to be no shortage of places to go and so many yum cha; we had talked about some of the best dim sum places already, but they are still a wee bit commercialise for us. So let's talk old school yum cha place!
Lin Heung Kui 蓮香居
Popping up on the list once again is the infamous Lin Huen Kui in Sheung Wan. From the day it opened it was already one of the most famous yum cha place; from the outside, you can see the traditional décor and with its big fans and wooden chair, it stands apart from the modern places draped in big chandelier and satin curtains. If you have the time to spare, come and try the custard buns here.
Address: 2-3/F, 46-50 Des Voeux Road West,Sheung Wan
Saam Hui Yaat – Sai Wan 叁去壹
The name alone gives away the age of the restaurant. Even though the location is tricky and the restaurant isn't big, its old time décor is a win. Most of the dim sums and rice are less than 20 HKD, it costs less than the usual big yum cha restaurants around the block. Tasty and cheap – you might just want to try this place out before the rise in rent price drives it away. But beware – it only opens from morning till 2pm, so make sure you allow yourself plenty of time to go.
Address: 11 Pok Fu Lam Rd, Sai Ying Pun
Hoi Lian Restaurant海連茶樓
Even if you venture out of Hong Kong Island, there are still great old fashioned yum cha places to go. Hoi Lian Restaurant actually do not have an English name, so you would be hard pressed to search for it. Since it's located in Tsuen Wan, the likelihood of you visiting this lovely Hong Kong style restaurant is even slimmer. Though only 30 – 40 years old, the restaurant still uses the traditional tea pots and push trolleys, and you are guaranteed to be free of any tourists in this place. So if you are looking for something old but different, this is the place.
Address:Shop 15-16, G/F, Wing Ka House, Fuk Loi Estate, Tsuen Wan