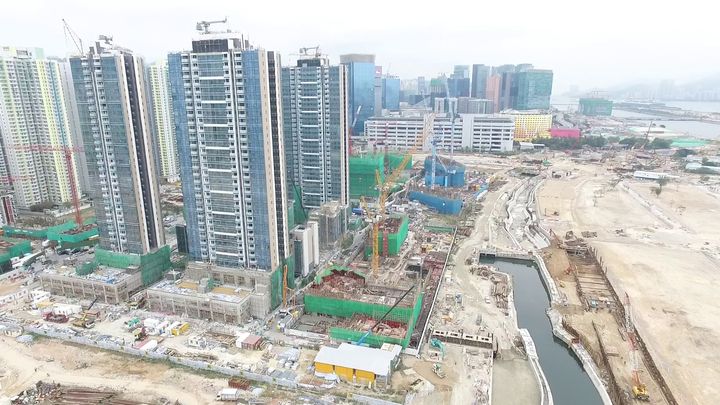 28 Residential Sites Coming – 8 in Kai Tak
The government will launch 28 residential sites in fiscal 2017-18 – including 20 new ones. The 28 residential sites will provide 18,910 flats, with 13,810 of those coming from the 20 new sites. Among the new residential sites, 8 – with about 7,500 flats – will be at Kai Tak. Meanwhile, five residential sites at MTR stations will also be launched in the new fiscal year, supplying 8,030 flats. They include sites at Tseung Kwan O Lohas Park, Ho Man Tin, Wong Chuk Hang, Yau Tong and Kam Sheung Road. Taking into account Urban Renewal Authority units and private projects, the total potential supply of new flats in 2017-18 will reach 32,620 – up 60% from 19,780 in 2016-17.
K.City To Launch 168 More Flats
K Wah International launched 168 more flats at its Kai Tak project, K City, at prices ranging from HK$7.54 million to HK$24.94 million. After deducting the highest discount, prices range from HK$6.37 million to HK$21.07 million. Prices per square foot are between HK$16,592 and HK$23,820. 9 of the flats, in a first such release, are four-bedroom units. Since the project's debut on Saturday, 383 flats have been sold. Meanwhile, Henderson Land has received over 120 subscriptions for the first batch of 62 flats from its Fanling new project – Eden Manor.
Tseung Kwan O Monterey To Roll Out Next Month
Wheelock Properties, is calling its last project in Tseung Kwan O south Monterey, providing 904 flats and 22 bungalows and plan to launch it next month. Flat sizes range from 239 to 1,159 sellable square feet while bungalows are 1,843 to 2,004 ssf. Being a low-density project, managing director Wong Kwong-yiu said, its prices will be higher than three district sister projects, The Parkside, Savannah and Capri.
For more information on property news and prices, please visit our website at https://www.spacious.hk/ or follow our LinkedIn Page.