While bustle occurs at a lively pace in this metropolitan city that is home to many across the globe, cozy cafes seem to be one of the most important places for us to just chill out and have some lazy afternoons, balancing our work and life. Here in Hong Kong, if you don't have time to explore the quieter side of the city, going to cafes is particularly a smart choice, stumbling upon the best coffee and having some me-time. Here are the 10 cafes that offer you finest coffee, exceptional food and chic environment. Check them out to make your every weekend a pleasurable one.
This newly opened cafe in Tsuen Wan offers the best pancake you have ever tried – thick, soft, fluffy, freshly made, basically everything that captures your heart. It serves up pancakes with the sweet vanilla ice cream, and some blueberries, cheese and pomegranate sauce for the embellishments, making the pancakes here the finest. A little hidden in the busy street, Aroma Dessert Cafe is a fantastic place to sit for hours enjoying the wholesome desserts in the simple and warm setting.
Address: Shop 42, G/F, Iau Keung Building, 38-46 Hau Tei Square, Tsuen Wan
Telephone: 6433 7787
Opening Hours: Tue-Sun: 15:00-23:00; Mon: Closed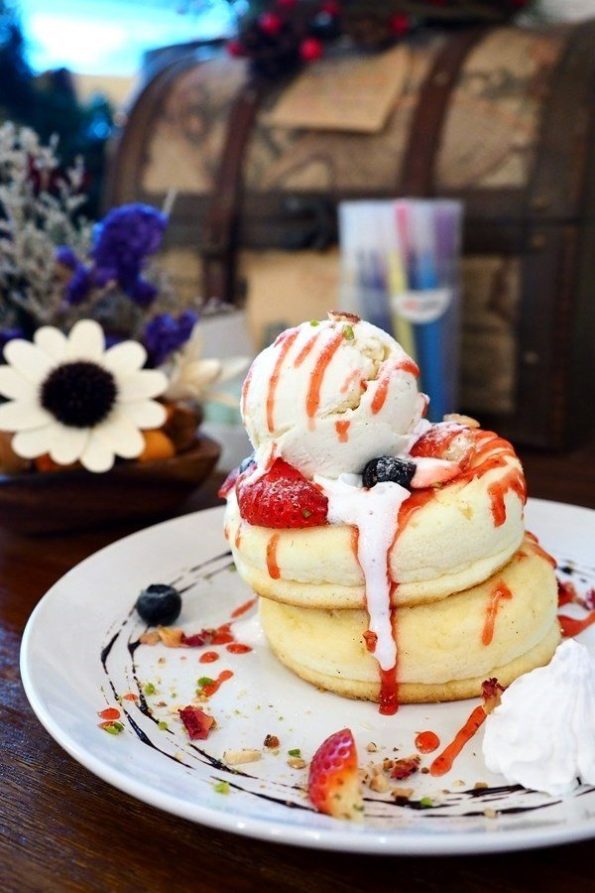 The Viennese Coffee here is particularly impressive. Its whipped cream is soft whereas the flavor of the black coffee is just right. Nothing is more soothing than sipping such coffee with its creamy top. Parc Antique & Lifestyle advocates to integrate century-old props with our modern life, demonstrating the mix of modern beauty and arts. On top of the French furnitures shown in the cafe, there are also a wide range of ancient props brought from Vienna. This cafe is just attractively vintage, indulgent, and the best weekend treat.
Address: Shop B2, 10/F, 60 Hung To Road, Kwun Tong
Telephone: 5544 0534
Opening Hours: Tue-Fri: 12:00-19:00; Sat&Sun: 12:00-18:00; Mon: Closed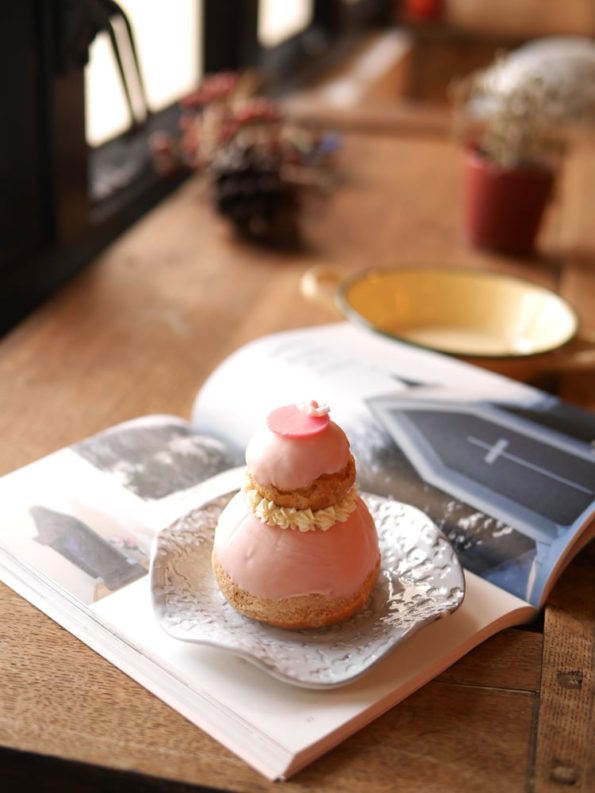 (3) Cafe Charm's
Who said you can't have a full satisfying meal in a cafe? Café Charm's serves exclusive light food and desserts. Its homemade Wagyu Beef Burger is especially prevalent. The beef is perfectly marinated and sliced, then skillfully grilled, bringing you the best experience when taking a huge bite of it. Of course, there is a series of girly desserts as well, such as sweet potatoes waffle, cream brûlée, to name but a few. This is just another signature cafe you must try in Hung Hom.
Address: Shop G27, Pebbles World, Wonderful Worlds of Whampoa III, Hung Hom
Telephone: 3480 6386
Opening Hours: Mon-Sun: 12:00-22:30 (Last Order: 21:30)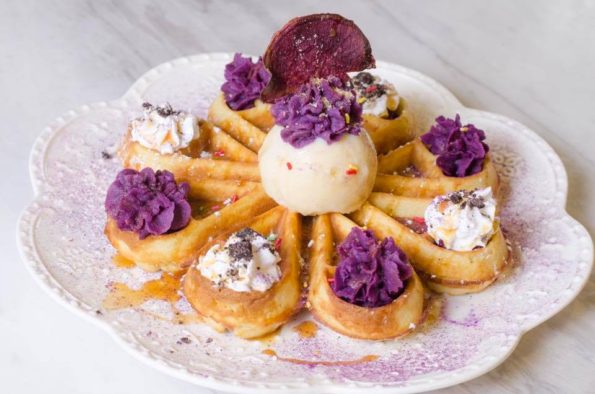 (4) l's Land Cafe
What's famous about l's Land Cafe is its super-duper economic dessert buffet which satisfies you with ultimately exquisite desserts! It only costs $88 per person. The flower-shaped waffle is served up with a twist, using the winning combo of Yakult and chocolate ice cream to finish it off. Sitting in such a comfortable environment, where you feel like you are in the natural gardens, just makes your every nerves relax. True that all the dishes and drinks here are created from the cafe's team's experiences and the dedication for food.
Address: Shop A, 6/F, Block 1, Camel Paint Building, 62 Hoi Yuen Road, Kwun Tong
Telephone: 5307 3636
Opening Hours: Mon-Sun: 11:30-23:00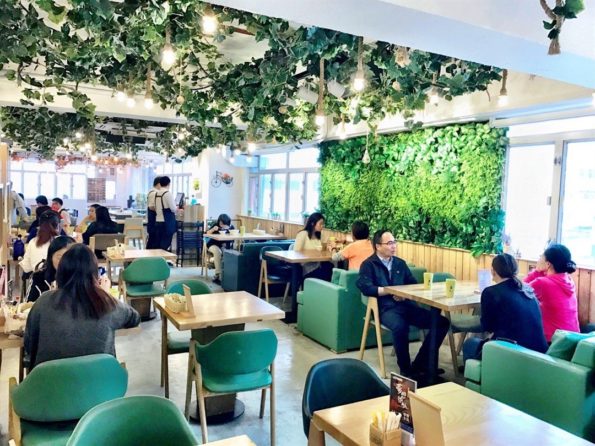 (5) Proper Kitchen
Proper Kitchen for sure makes proper sandwiches and salads, offering you the best fuel to keep going. Believing that a workday lunch should not be boring, this cafe constantly develops innovative recipes, allowing you to try the state-of-the-art and exciting flavors. Here you can find the healthiest food that won't add burden on your exhausting bodies without compromising on tastiness. What's highly recommended? Try the Grilled Prawn with Cocktail Dressing on Butter Brioche! It just never disappoints anyone.
Address: Shop 1, G/F, Billion Plaza II, 10B Cheung Yue Street, Lai Chi Kok
Telephone: 9583 1098
Opening Hours: Mon-Fri:08:45 – 18:45; Sat: 10:00 – 15:00; Sun: Closed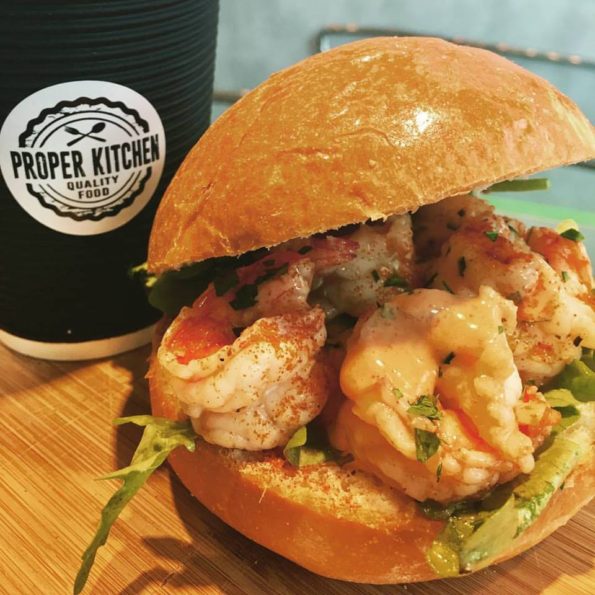 (6) Spoil Cafe
Spoil Cafe is famous for its signature crunch cake. It is certainly a magnificent bundle of delight! Unlike the normal crunch cakes where the cream is simply sweet, Spoil Cafe mixes both sweetened and unsweetened cream, reaching the perfect level of sweetness that is just right and makes you fond of it! Moreover, its rich chocolate cake that is made from 75% single origin chocolate is prominent as well! This Spoil Cafe really spoils you by allowing you to tailor-make your own menu and enjoy it all on the private patio.
Address: Shop A, G/F, Shun Ho Building, 1 Sun Street, Wan Chai
Telephone: 3589 5678
Opening Hours: Mon.-Sat. 12:00-22:30, Sun: Closed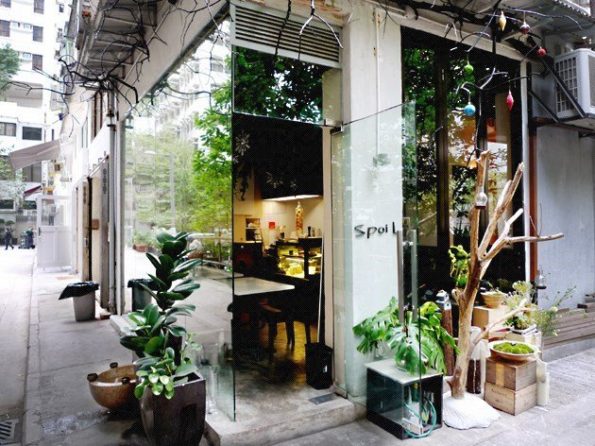 (7) Ocio
Ocio is a cosy little cafe in Causeway Bay offering a range of scrumptious desserts. The most renowned ones are their waffles and mille-feuilles. Its waffles are chewy and the texture is not as light as the other waffles you can find in elsewhere. You can choose whatever flavor of ice cream to go with the waffle. Passionfruit is recommended because it works divinely with the milky sweetness of the chocolate chips. The delectable waffles, hearty portions and reasonable prices are the reasons that make you willing to fight for the limited seats here.
Address: Shop D2, Tang Fai Building, 36 – 48 Tang Lung Street, Causeway Bay
Telephone:2891 0855
Opening Hours: Mon.-Fri. 12:00-23:00 Sat.-Sun. 11:00-23:00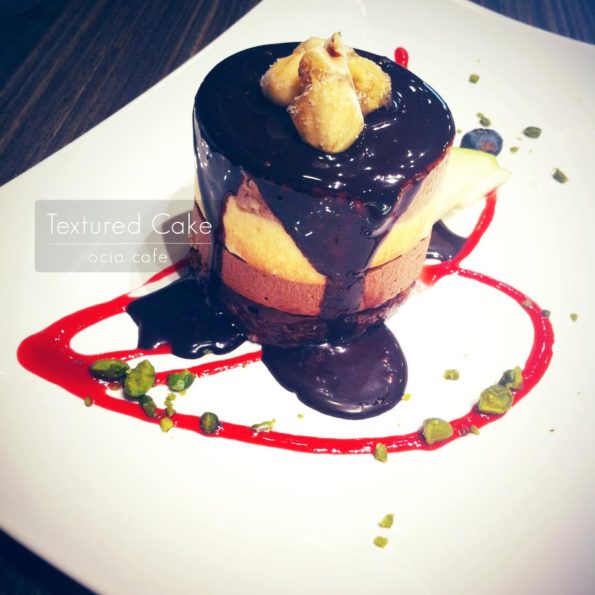 (8) Espuma
Espuma combines sixty years of heritage and expertise in coffee, the Barcelona way, with an ever-growing taste for coffee excellence in Asia to provide a range of products and services in an ambience that offers a unique and uplifting experience for you. On top of its passion in making coffee that is of top quality, Espuma is also famous for its afternoon tea! In the tea set in the mini house, you can find a large variety of desserts, such as citrus mini cake and orange mouse cakes. There are also other snacks like its beetroot beef burger that you should not miss!
Address: 17/F, M88, Wellington Place, 2-8 Wellington Street, Central
Telephone: 2973 6088
Opening Hours: Mon-Sun: 11:00-23:00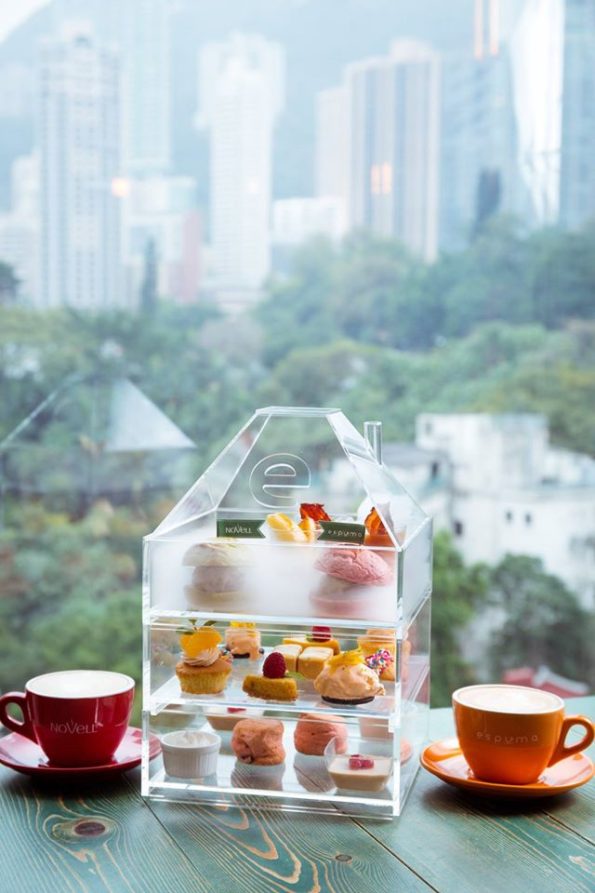 Situated in the restaurant-dense area of Tai Hang, the little Pudding Nouveau still stands out, probably because of its Duck and Waffle, its signature dish. The duck confit is extremely well cooked extremely, with crispy skin on the outside and tender juicy meat inside; whereas the waffle is great looking and delicate in taste. Don't miss out its Oolong creme brulee that is perfectly smooth and infused with a the right amount of tea flavor. Having all these impressive highlights, who would not try this cafe?
Address: G/F, 17A King Street, Tai Hang
Telephone: 3585 7325
Opening Hours: Mon-Fri: 15:00-23:30 Sat-Sun & Public Holiday: 12:00-23:30
(10) Cafe Corridor
Without the fancy interior designs or grand furnitures to decorate, Cafe Corridor lets its finest coffee speak for it. High quality coffee always comes first when it comes to your favorite hot beverage, isn't it? Here is the right place where you can find the luxurious blend that is incredibly crafted. The aroma of the coffee warms every bits of you. Along with the basics light food such as salads, pastries and homemade cakes, everything here is just worth seeking out. It will very likely become the cafe where you can't stop visiting.
Address: G/F, 26A Russell Street, Causeway Bay
Telephone: 2892 2927
Opening Hours: Sun-Thu: 08:00-22:00 Fri: 08:00-23:00 Sat: 10:00-23:00