Bung Sawan
Takdaet, Mueang Chumphon District, Chumphon, 泰國
介紹
Bung Sawan - A Little Piece of Paradise, Estate and Fishing Lake - Chumphon, FOR SALE BUNG SAWAN - A LITTLE PIECE OF PARADISE.
Nestled in 15 Rai of land just outside Chumphon town is an exclusive executive estate conceived and owned by the late UK TV fishing legend John Wilson MBE and his wife Jo.
The development fulfills two dreams- an exclusive luxury lakeside home and/or a well-stocked private fishery suitable for a business.
The estate features a main residence and a good size gate house/guest villa located on opposite sides of the lake. The overall site landscaping has been carefully designed so that neither property can be viewed directly from the other. The site is self-contained and fenced on all sides, with a gated entrance flanked by Travelers' Palms and a massive Aloe Vera.
Thai home and lake is for sale. This luxury lakeside family residence with separate guest house also offers an exotic fishery investment opportunity with a fully stocked fishing lake which could be easily converted into a business and will therefore appeal to anyone seeking a luxury fishing resort for sale in Thailand.
Main Residence
Size 400 sq.m. standing within 711 sq.m patio, pool and car port Comprising a luxury 3-bedroom single storey villa at the head of the lake proving exceptional views of the lake, small island which is home to hundreds of egrets which roost at night plus beautifully landscaped banks with palms, flame trees, bamboo etc.
It features an extensive patio to the front and side encompassing a modern concrete and tiled 40.58 sq.m swimming pool (1.5 metres deep) and jacuzzi. Other features include, a toilet and outside shower and a bar area. The building has a 'U' shaped footprint creating a central courtyard which can be accessed from all areas.
Pump House, Pool House & Tackle Room
Size 11m long x 5m wide
Main Residence Kitchen / Diner
Size 13.80 m long x 5 m wide The entrance from the patio/pool area leads to a large modern European style kitchen /diner with gas hob and electric oven, built-in microwave, dishwasher, built-in fridge/freezer and extensive wall and floor mounted storage. A large island unit separates the kitchen area from a large dining area with air conditioning. A small office and toilet is located at the far end on the dining area. Your dream home and fishing lake in Thailand comes with a luxury main residence fully fitted European style kitchen and large air-conditioned dining area.
Main Residence Lounge
Size 10.0m long x 7.50m wide From the kitchen, the extensive lounge runs along the front of the building offering spectacular views over the lake on one side and the courtyard on the other. The room is fitted with air conditioning and has internet and wifi connections.
Main Residence Master Bedroom
Size 5.90m long x 4.70m wide This large air conditioned master bedroom has views over the lake and gardens. It also features a 5.90m long x 4.70m wide dressing room and a bathroom fitted with twin sinks, shower and bath.
Main Residence Bedroom 2
With plenty of room for a full size double bed plus wardrobes, dressing table etc., bedroom 2 is fitted with air conditioning and features a 2.5m x 2.0m ensuite toilet and shower room. Sleep in style in the grand master bedroom at the main residence of this luxury lakeside family residence with separate guest house.
Main Residence Bedroom 3
Size 5.9m long x 4.60m wide Identical in size and layout to bedroom 2 this guest room also features air conditioning and a 2.5m x 2.0m ensuite toilet and shower.
GATE / GUEST HOUSE
Size 18m long x 13m wide The Gate/ Guest house is a 2 bedroom villa with its own self-contained front, rear and side gardens. It comprises a breakfast room / lounge, a European style kitchen with gas hob and electric oven, fridge freezer and washing machine. There are two large bedrooms both with en-suite toilet and shower rooms and air conditioning. A third toilet is located off the kitchen area. Currently the second bedroom which overlooks the lake is used as a large lounge. The property has a high speed fibre optic internet connection.
Car Port / Workshop
Size 11.60m long x 7.50m wide at the head of a curved driveway with parking for 3 or more vehicles, there is a covered car port and a sizable workshop / store.
Guest House Lounge / Breakfast Room
Size 6.60m long x 3.50m wide Entrance to the Guest House can be made through two sliding doors that lead into this area. Currently used as a breakfast and day room with plenty of space for a full size dining table and a 'office' or computer desk. The room has an electrical connection for an air conditioning unit plus TV socket. A walk-in cupboard houses the electric box and earth leakage trip and can accommodate a chest freezer or further storage. A hallway with its own doors to the outside, links the lounge/breakfast room to the bedrooms.
Guest House Kitchen
Size 4.90m long x 3.40m wide The kitchen is European in style with plenty of overhead and floor mounted storage cupboards. There is an electric extractor hood above a 4 ring gas hub and built-in electric oven. A door from the kitchen leads to a toilet and sink. A rear door provides access to the large garden with impressive Bismark and Travelers palms and other Thai trees and shrubs.
Bedroom 1
Size 5.70m long x 5m wide includes en suite Bedroom 1, located at the rear of the villa offers plenty of room for the largest of double beds, storage cupboards and vanity unit. It features an en-suite shower room and toilet and air conditioning.
Bedroom 2 / Lounge
Size 5.70m long x 5m wide includes en suite Originally intended as the second bedroom, this large space is currently used as a main lounge as it is located at the front of the villa with views of the lake. The room has air conditioning and connections for fibre optic internet and satellite TV.
Fishing Lake:
FISH STOCK
As befits a lake conceived by one of the world's most famous fishermen, it is extensively stocked with many exotic Asian and South American species including:
10-12 Arapaima 200 - 300lbs. 50 Chao Phraya Catfish 40 - 80lbs. Over 100 Red Tail Catfish 20 - 80lbs. 50 Redtail hybrid Catfish 20 - 40 lbs 30 Striped & Mekong Catfish 30 - 100lbs. 20 Alligator Garfish 20 - 40lbs. 60 Pacu 10 - 30lbs. 50 Tambaqui 25- 40lbs. 100 Giant Gouramis 4 - 15lbs. 90 Siamese Carp 45 -80lbs. 10 Niger [ripsaw] Catfish 12 - 25lbs. 20 Giant Snakeheads 10 -30lbs. Several thousand Silver Barbs between a few ounces & 5lbs. Hundreds Tilapia Nileoticus between a few ounces & 7lbs. Plus numerous small indigenous species.
There is also a growing-on pond in which fish are prepared before being introduced into the main lake.
The stock of fish in the lake has been valued at 250 thousand sterling = 10.4 million baht, .
SALE, includes two lawn mowers and all garden equipment plus a 10-foot Aluminium dinghy, with enough top-quality fishing tackle to provide up to eight anglers with at least two rods apiece.
These include designer 10 ½ foot Monster Tamer Carp and Catfish rods, plus Big Boss, Fin-nor and ABU multiplier reels. Unhooking matts, rod-pods with bite alarms and extra-large landing nets are also included plus bulk spools of mono and braided lines up to 100lbs test, and all small sundry items.
Estate Misc:
The estate has 3 phase electrical supply (2 phase to the guest house) and its own private deep fresh water well complete with storage tanks, water filtration and softening systems all housed in purpose-built buildings which reflect the design of the main villa.
High speed fibre optic internet connections are installed to both properties with the cable running in protective tubing.
There is a standalone 'fishermen's'/gardeners' toilet located halfway between the two properties.
A rolling main gate with timer-controlled security lighting secures the site at night.
A gravel road runs from the main gate around one side of the lake linking the two properties and providing plenty of parking. There are also three salas located around the perimeter of the lake.
Both properties have extensive grounds either behind or to the side of the buildings. These have been planted with many types of palm and bamboo, mango and other Thai trees all laid to grass. There are two smaller ponds one a growing-on facility for stock fish and the other a lily pond.
Fishing boat and tackle included in the sale​.
Location
Bung Sawan is located approximately 7 kilometres south of Chumphon town and can be reached either from the AH2 motorway or from provincial road 15 See map.
免責條款
購買境外未建成物業是複雜及有風險的。在作出購買決定前,閣下應仔細閱讀所有相關的資料及文件。如有疑問,請在作出購買決定前尋求獨立專業意見。貨幣換算或產生兌換差額,價格僅供參考。
售樓說明書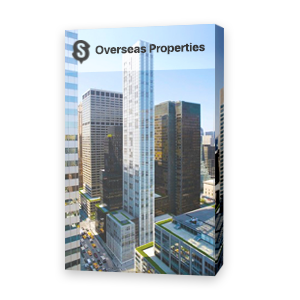 取得Bung Sawan的詳細資料,以及在泰國買樓的注意事項。