LAY4597: Layan Beach
Choeng Thale, Thalang District, Phuket 83110, Thailand
Description
Year by year, our company receives a large number of enquiries with the same wishes: "We would like to buy something quite tiny, but spacious. It should not be huge. And it must have ocean or sea views. And a swimming pool. Better - two! And even better to have a private infinity pool, which would be led us away to the horizon ... The residence is to have a convenient location, to be close to major retail outlets and to the airport, but it should be set up in a quiet and peaceful place. It would be great if the complex consisted of a small number of units, because we prefer to purchase maximum privacy together with an estate, you know. And the ,ain thing is we have only 25 million baht. Tell me if it is possible? "
A couple of years ago, we would have shrugged our shoulders and would offer an ideal option fitted all those clients wishes, but with a price higher than 25 million baht. Today we are pleased to announce that your dream is a step away from your reality. A reliable developer of the island has heard our requests and offered a brand new project located in Layang Beach known among wealthy travelers and expats as a luxury district.
The project consists of three buildings formed three tiers, each of which has only 18 units. 18 elite, quite expensive luxury apartments with ocean views and a private infinity pool at just 25 million baht – isn't it a fairy tale in reality?
Total area of the apartment measures 200 sq.m.
Each bedroom has en-suit bathroom, and the master bedroom has a spacious tube installed in the bathroom.
As for back rooms, there is a separate laundry room and storage room in the flat.
The open plan living room faces an outdoor terrace where you can relax and soak up the sun, outdoor seating area is connected to the infinity swimming pool leading up to the horizon. Comfortable sofas and sun beds, private swimming pool with a mini waterfall, fantastic views of the Phuket sunsets - this is exactly what you need after a long working day.
Due to ingenious architectural design, stunning views over the ocean and mountains buried in the sunlight are opened from both the stylish living room and a master bedroom; that is why the feeling of the edge of the Earth and endless freedom does not leave you for a minute.
The modern view to the apartment design combined with authentic elements of Thai culture allows blurring time limits and creates an unusually harmonious interior.
Sliding glass doors of the living room visually expand the living space making the terrace a part of the flat.
Modern kitchen captivates with its functionality at first sight. From now in your family there will not be disputes any more about who is going to cook dinner, because to cook in this kitchen is a natural pleasure. The large dining table will unite a warm friends company. You can enjoy having breakfast at the bar with white granite countertops.
The project is presented by well-known developer in Thailand, which has been successfully building luxury properties in the Kingdom for almost 30 years.
Size
2152.78 - 2152.78 Sqft
Disclaimer
Purchasing uncompleted properties situated outside Hong Kong is complicated and contains risk. You should review all relevant information and documents carefully before making a purchase decision. If in doubt, please seek independent professional advice before making a purchase decision. All prices are for indication only due to currency exchange differences.
Get the Brochure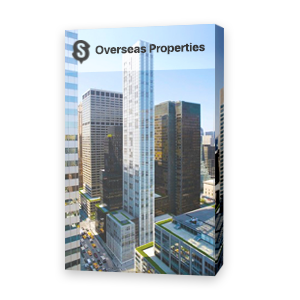 Request detailed information on the project and purchasing property in Thailand.
Request more Information
| | Apartment Type | Area | Sale Price |
| --- | --- | --- | --- |
| | 1 bedroom | 2152.78 Sqft | |