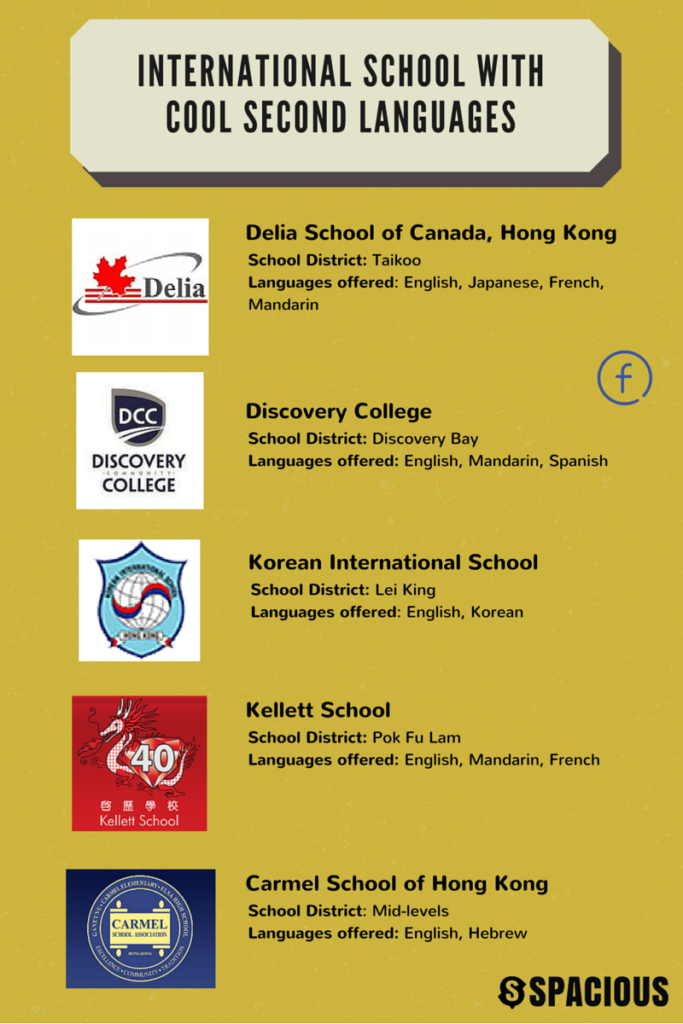 Hong Kong, as an international metropolis, has its residents coming from all over the world and sharing different culture and lingual backgrounds. To accommodate these folks who speak different languages, international schools are then established. We all know that the language of instruction in most of those international schools is English, with Mandarin as a second language. However, some other international schools actually adopt second languages apart from Mandarin, which you might want to have a brief look upon it.
1. Delia School of Canada, Hong Kong
The Delia School of Canada consists of both elementary and secondary school systems. It implements the Canadian education curriculum which concentrates on four core academic areas- English, Mathematics, Science and Technology. The learning environment here advocates the student-centred learning method, which encourages students to develop problem-solving, social, communication skills and etc. On top of Mandarin, which is taught as second language, Japanese and French are also instructed.
School District: Taikoo
2. Discovery College
Discovery College is one of the renowned international schools you might have heard of as well as its award-winning construction design. It adopts the International Baccalaureate (IB) system and offers three IB programmes for students with the age ranging from 4 to 19. Its excellence in creating an international environment is accomplished by the staff members coming from more than 20 countries and the students population with more than 45 nationalities. Although Mandarin is the main second languages instructed, Spanish(only offered in Y7 or above) is included in the curriculum as well.
School District: Discovery Bay
3. Korean International School
Obviously seen from the title, Korean International School was established by Korean, starting from a small Korean community in Hong Kong. The school is divided into 2 segments which are taught in English and Korean, respectively. In addition, it is said to be one of the few Korean educational colleges that admit non-Korean pupils.
School District: Shau Kei Wan
4. Kellett School
Kellett School is a British international school supported by an association promoting British style education for English speaking community. It was also recognized by the UK Department of Education for its provision of prominent education for children. French and Mandarin are incorporated in their curriculum commencing from primary school.
School District: Pok Fu Lam
5. Carmel School of Hong Kong
Another very interesting International School is the Carmel school of Hong Kong. It is a Jewish educational institution which also accept non-Jewish students regardless of religion. The education system it adopts is the International Baccalaureate, which reveals their high education standard and the focus on individual development. Some courses are instructed in Hebrew depending on the program.
School District: Mid-levels