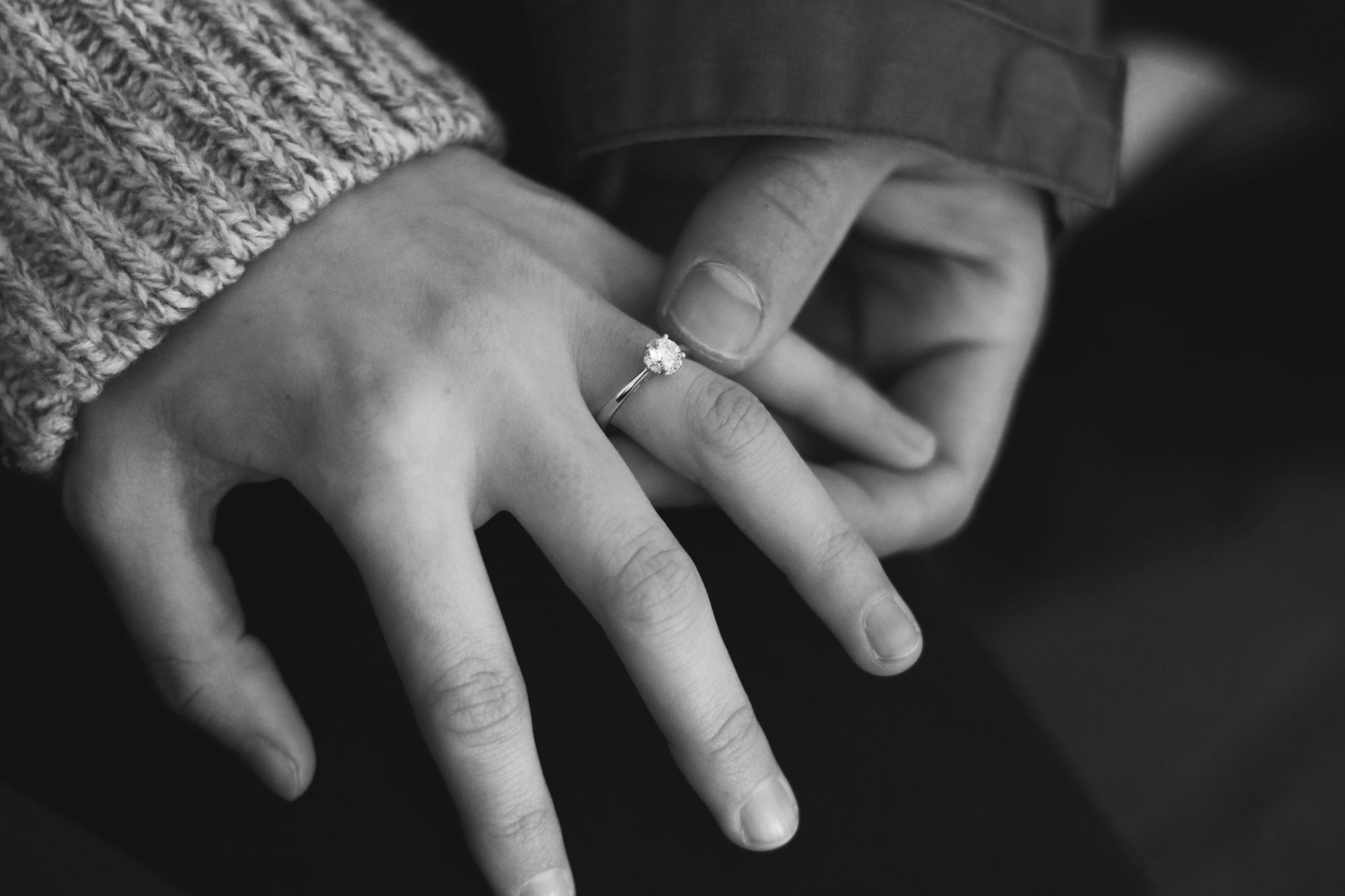 Engagement ring shopping can be quite daunting. There is the color, shape, and clarity of the ring to consider. Then, there's the type of metal your loved one loves. Then, there's the carat weight. Add factors like price, sizing, and preference to the equation, and you can easily feel overwhelmed.
What is even more frustrating is that most of the tips for buying engagement rings in Hong Kong aren't very helpful. The majority gives "inspiration" ideas without dishing out specific, actionable advice on identifying and purchasing that ring that will make her (or him) say yes.
That is why we have come up with this article. Below, you'll come across a guide that will aid you in your hunt for the perfect engagement ring in Hong Kong. Whether you are starting from scratch or already have ideas, these expert tips will help you select the best engagement ring in HK.
Knowing Your Partner's Style
Making sure the engagement ring complements your partner's style is paramount as it's a piece of jewelry she will wear and treasure for the rest of her life. Luckily for you, determining your fiancé's style is incredibly easy. All you have to do is to look at her clothes and accessories. 
A closet packed with structured blazers/primary colors probably indicates she likes minimalist jewelry and classic designs. A wardrobe consisting of printed dresses and bold-colored tops in unique cuts possibly means she adores large cocktail rings, bold jewelry, and modern designs.
For minimalists:
A timeless solitaire diamond in a prong ring setting may be a perfect choice. Other popular options are the classic Tiffany setting, the elegant split-shank setting, the slimming bar setting, and the sparkly pavé setting.
For modern brides:
A three-stone setting may be a perfect choice because it's more aesthetic. Other favored options are the cluster setting for that glistening effect and the double diamond setting for that extra sparkle.
Also consider your partner's lifestyle when choosing an engagement ring. If her job is hands-on, a smaller diamond might be a more practical choice. Anything bigger would prevent her from going about with their job with the ring on. And if she travels a lot, a lower carat would be ideal.
The 4 C's Of Diamond Quality
The quality of a diamond is determined by 4Cs: Cut, Color, Clarity, and Carat.
Each of the 4Cs play a crucial role in the beauty, uniqueness, and price of the diamond. The grade a diamond carries in each of these four areas gives a crystal-clear idea of its quality, and, by extension, the price you should be willing to buy.
The 4Cs aren't separate entities. They interact with each other to dictate a diamond's appearance and how high quality it is. For instance, it is a diamond's cut quality, color, and clarity that determine its ability to reflect light to your eyes. 
Color And Clarity
The color of a diamond establishes its value. The clearer the diamond, the higher its value. According to GIA, "a chemically pure and structurally perfect diamond has no hue, like a drop of pure water, and consequently has a higher value."
GIA has created a D-Z grading system to evaluate the coolness of a diamond using controlled lighting and exact viewing conditions. D is the purest in color and the highest in value, while Z-graded diamond has a yellowish tone which makes it less valuable than the rest.
To measure a diamond's clarity, the GIA diamond clarity scale comes in handy. Consisting of six types with a total of 11 grades, the clarity scale rates diamonds from flawless (FL) to blemished (I1, I2, and I3). Let's look at the grading system to know more:
Flawless (FL): Free from blemishes and inclusions.
Internally Flawless (IF): Does not have any additions.
Very, Very Slightly Included  (VVS1 and VVS2): Has barely noticeable additions
Very Slightly Included (VS1 and VS2): Possesses minor additions that can be observed.
Slight Inclusions (SI1 and SI2):  Has visible inclusions
Included (I1, I2, and I3): Has noticeable inclusions that affect the diamond's brilliance.
Cut And Shape
If you want to purchase the best engagement ring for that special one, it's crucial to know the difference between diamond shape and cut.
A diamond's cut refers to its symmetry and how well it has been cut and polished. The diamond cut affects the ring's sparkle by defining how the stone reflects light. The diamond-cut scale ranges from excellent to fair. Here's what the diamond-cut scale signifies:
Excellent Cut – Has a mirror-like facet. Produces the most magnificent sparkle.
Very Good Cut – Generates a very high level of white light.
Good Cut – Darker in appearance with a lack of contrast.
Fair Cut – Light leaks through the bottom of the stone instead of from the top. 
A diamond's shape refers to the stone's form when you look at it from top to bottom. It can vary from Emerald, Heart, Oval, Round, Baguette, Pear to Princess, Cushion, Marquise, Asscher, and Trapeze. When choosing the diamond shape, consider your partner's finger shape.
Slim fingers will benefit from round, princess, and pear shapes.
Chubby fingers look better with Emerald, Marquise, and Baguette.
Carat Weight And Size
The term 'carat' refers to the weight of the diamond.
However, in most cases, it is mistakenly referred to as the stone's size. The international standard is 200 milligrams, and diamonds can range from a fraction of a carat to several carats. For instance, a one-carat diamond equals 100 points, and a ½ carat diamond equals 50 points or 0.50 carats.
As large diamonds are rare, they can be costly. That is precisely the reason why higher carat diamonds tend to have higher asking prices.
When there is more than one diamond in a setting – a three-stone ring, for example – the diamonds are weighed in terms of 'total carat weight'. You may also opt to purchase a loose diamond, and choose the ring, metal, and setting later as a couple to make a special memory.
Diamond Ring Setting
Diamond rings are available in multiple settings, offering you a smorgasbord of options. From classic to avant-garde, there's one that will surely tickle your fancy.
Prong Ring Setting
As the most popular ring setting, the Prong Engagement Ring offers a classic design with a small metal claw that holds the diamond in place, highlighting its grandeur and beauty. Since it has a classic, minimalist design, this setting draws attention to the diamond itself and is highly costly.
Bezel Ring Setting
Often seen as the second most favored ring setting, the Bezel Engagement Ring provides a sleek design with a thin metal ring – usually custom-made – that holds the diamond instead of the prong. It's ideal for those who lead an active lifestyle as the bezel setting protects the diamond from damage.
Split Shank Ring Setting
Ideal for both minimalists and maximalists, the Split Shank Engagement Ring has a split band that encircles the finger and holds the diamond. This ring setting offers the option of adding side diamonds or other stones, making the ring look extravagant and extra sparkly.
Three-Stone Ring Setting
Another classic engagement ring setting, the Three-Stone Engagement Ring makes use of diamonds or other gemstones of the same or varying sizes, making the whole style customization easier. This setting is said to represent the couple's past, present, and future.
Where to Shop For Engagement Rings In Hong Kong
Now that you've established your partner's style and the diamond's features, it's time to hunt for that perfect engagement ring. Hong Kong offers a multitude of large jewelry boutiques, so finding a rare cut and shape won't be difficult.
Here are the best places to shop for engagement rings in Hong Kong:
Chow Tai Fook
Chai Tai Fook is the largest jeweler in Asia. It has over 1000 locations worldwide and is a household name in the fine jewelry scene.
Chow Tai Fook has over 1,000 jewelry outlets in Mainland China and countless boutiques in Hong Kong. You'll even find about two to three Chow Tai Fook boutiques along Nathan Road and Hennessy Road around Central. This jeweler only sells GIA and AGS-certified diamonds.
Bee's Diamonds
Bee's Diamonds is an award-winning jewelry brand. It distinguishes itself from the competition by storing its diamonds rather than sourcing them from the open market.
They offer rings with clarity exceeding GIA standards, and their consultants fly to Hong Kong's regional neighbors for private appointments. Bee's Diamonds are known for delivering outstanding grade diamonds and excellent customer service.
The Diamond Library
Due to the environmental costs of traditional diamond mining, more and more jewelry shoppers are looking for sustainably-sourced diamonds. Such shoppers should know that The Diamond Library has a selection of lab-grown diamonds as magnificent as traditionally-sourced rocks.
Located at Harbour Center, the brand's designs are curated by experts who have decades of industry experience and expertise. They also employ a team of concierges to educate the shoppers on the features of lab-grown diamonds. The Diamond Library is the best place for wedding rings in Hong Kong.
Diamond Registry
As Hong Kong's premier diamond supplier since 1961, Diamond Registry is renowned for selling prized jewelry and stones at wholesale prices. You can consult their website to learn more about the price of diamond ring in Hong Kong.
Their boutique in Central accepts by-appointment-only visits for those who appreciate their GIA-certified selections of diamond jewelry. They are also the supplier for jewelers in New York and Hollywood because of their excellent value for money.
Wrapping It Up
An engagement ring is a sign of eternal love and commitment. It is arguably the most crucial piece of jewelry anyone will ever purchase. Therefore, it's integral to get it right on the first time of asking, something this article will help you with. 
Frequently Asked Questions
Where to start with engagement rings?
An engagement ring is a sign of eternal love and commitment. It is arguably the most crucial piece of jewelry anyone will ever purchase. Therefore, it's integral to get it right on the first time of asking, something this article will help you with. 
How to stack rings with an engagement ring?
Stacking rings (such as a wedding ring or any other ring) with your engagement ring is incredibly easy. All you have to do is to wear your other ring first, followed by your engagement ring.
How much do engagement rings cost?
According to an estimate, the amount an average couple spends on an engagement ring is $4,756. However, some-to-be-weds fork a whole lot more money and some a lot less.
Which order do you wear engagement wedding and eternity rings?
Here's the correct order: wedding ring first, engagement ring second, eternity ring third.
All three rings should be worn on the finger right next to the pinky finger on a person's left hand.
How many engagement rings are worn each year?
According to an estimate, over 1.8 million engagement rings are sold per year in the US alone. Worldwide figures aren't available.
How much are diamond engagement rings?
Jewelry industry estimates put the average price of a diamond engagement ring somewhere between $3,500 and $5,000.
How much are tiffany engagement rings?
A brand new Tiffany engagement ring can set you back anywhere between $1,500 (for a basic model) and well over $100,000 for the most extravagant piece of jewelry.
How much are emerald engagement rings?
Prices vary based on the location the emerald was mined and the jeweler selling it. Still, it's rare to find an emerald engagement ring at less than $1,200.
Where to buy sapphire engagement rings in Hong Kong?
Many places sell sapphire engagement rings in Hong Kong.
Some of the more popular ones include Ryder Diamonds (Central Hong Kong), Niya K (Tsim Sha Tsui), and Gems Excellence (Central). Check out Haywards if you want to do online shopping. Tiffany is another excellent place to buy engagement rings in Hong Kong.
Where to buy a vintage engagement ring in Hong Kong?
Bees Diamonds offer an extensive collection of vintage engagement rings in Hong Kong. You can walk into their shop in Central, or you can order at their website. Other options include The 5th C,  Ryder Diamonds, and Blue Nile HK.
Where to buy Cartier engagement rings in Hong Kong?
Check out Cartier.HK. They specialize in offering personalized engagement rings, bands, and bracelets for men and women.