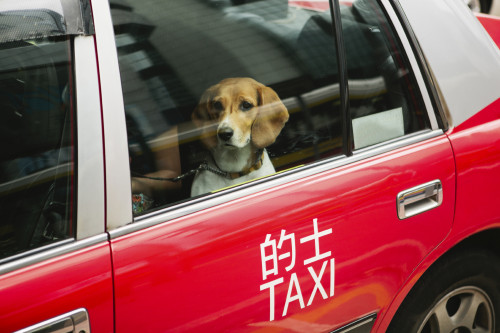 If you're planning a move to Hong Kong and you have a devoted pet, the move to a new culture and city may seem more enjoyable if you can bring your pet with you. Perhaps your dog or cat has been with you for many years, or maybe it's a new pet you just got before learning you'd be relocating to Hong Kong. Despite many naysayers, it is possible to have a happy and well-exercised pet in this thriving world city. However, before you jump on a plane with your pet dog, here are some tips on moving to Hong Kong with a pet.

To import any animal into Hong Kong, you must have a permit from the government. You should apply for the proper permits and licenses to import your pet into Hong Kong well in advance of your move. It takes at least five business days for the agency to process each permit, and you don't want to be waiting at the airport in customs when you realize that the permit hasn't arrived yet. The government advises all travellers to not arrange for transport of a pet until the license has arrived. You can find the permit online from the Agriculture, Fisheries, and Conservation Department of the Government of the Hong Kong Special Administrative Region.
Make sure your apartment allows pets before you decide whether to bring your pet with you on your new adventures. Often, apartments that allow pets will be more expensive to rent, so you need to take this cost into consideration as you think about bringing your pet with you to a new country. If you are going to be working long hours away from your pet, consider whether your pet will be happy and comfortable spending so much time alone and away from you.
If you're a dog owner, your new home should be able to provide proper exercise opportunities for your pet. Will your dog be able to move around freely all day? Are there places you can take your dog to socialize with other dogs? When selecting housing in Hong Kong, you will be looking for places that are near parks or exercise trails where you can walk your dog.
Due to the high cost of living, homes and apartments in Hong Kong are much smaller for people in all income levels, so keep that in mind when deciding whether to bring your pets with you. If you're used to a sprawling house in the suburbs, it'll be much easier to adjust to having a small toy dog than having a large dog that takes up coveted floor space or your favourite chair.
All dogs over the age of 5 months old must be licensed. Apply for the license in advance, if possible, or make sure you allow plenty of time on your first day in Hong Kong to acquire the license.
Check with your new apartment to find out if there are animal nuisance laws in place. Many apartments have these regulations to prevent residents having to put up with the sound of constant barking from their neighbours. Make sure your dog or cat will be able to comply with these rules easily.
If you are importing a pet from overseas, you should be prepared for the possibility that your pet may need to be quarantined upon arrival. You can minimize the possibility of this happening by making sure your pet is caught up on all immunizations and that your pet is in good health.
Plan now to keep your pet under control at all times. In a busy city like Hong Kong, that means keeping your pet on a leash anytime it is outside of your home. You may be subject to a $10,000 fine if your dog bites someone while not on a leash.
If you have any qualms about bringing your pet with you to Hong Kong, consider your responsibility carefully. Adjusting to this new city will be more difficult if you have a dog or cat to care for at home. Remember that even if you don't arrive in Hong Kong with a pet, you can always adopt a pet later on, once you've settled in. The Hong Kong Dog Rescue offers thousands of dogs for adoption and saves the lives of about 10,000 pets each year.
Hong Kong can be a fun and rewarding place to raise a pet dog or cat. Pet ownership in the city has increased in the past 10 years, and it is becoming a more pet-friendly city. Caring for a pet in a small apartment will always be tricky, however, so please keep these tips in mind as you consider your future life in Hong Kong and what it will be like caring for a pet in this world city.
If you are looking for a place for you and your pet to live in Hong Kong, check out Spacious Hong Kong, which offers millions of available homes and apartments. You can filter for pet friendly apartments and find out what's available in your preferred location.