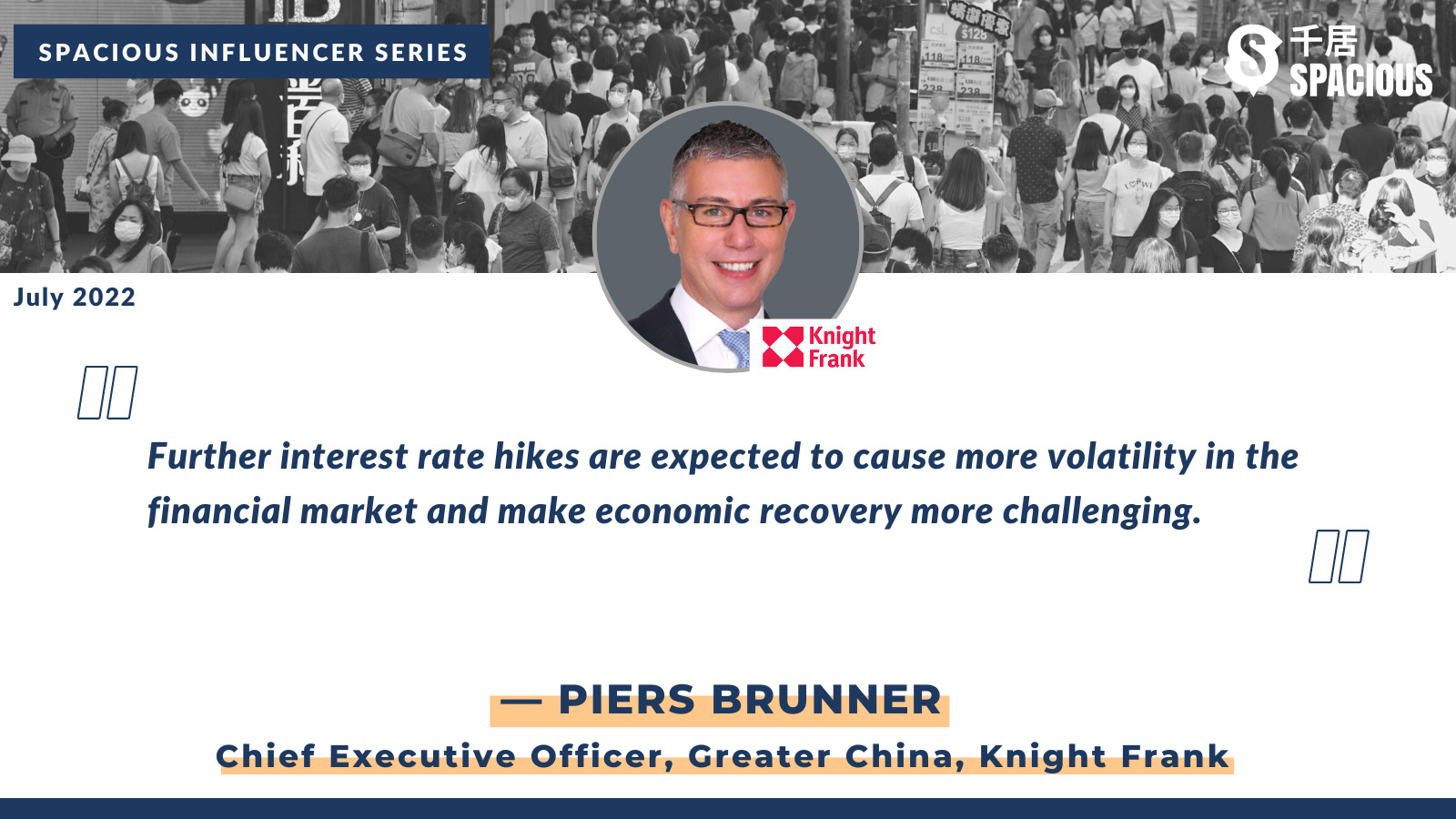 Content by Piers Brunner, CEO, Knight Frank Greater China
July 2022 : Demand for super luxury properties prevail amid market slowdown 
Affected by the pandemic and economic downturn, sales activity in the residential market slowed down. In the first half of 2022, Hong Kong's overall stamp duty revenue from home sales fell to HK$3.67 billion, a 52% drop compared to the second half of 2021. The number of cases involved during the period was also a new low at 1,812, about 31.6% lower than in the second half of last year, data from the Inland Revenue Department shows. 
In the luxury segment, more homebuyers choose to hold back their buying decisions amid market uncertainty, rising interest rates and an uncertain stock market. That said, a handful of transactions set record prices for the year. A 8,032-sq-ft-house at 15 Shouson developed by Emperor International, CC Land, Mingfa Group and CSI Properties in Shouson Hill was sold for HK$870.2 million or HK$108,347 per sq ft by tender – reflecting Hong Kong's super prime properties remained sought-after by wealthy buyers. Another notable transaction – a 6,867-sq-ft-penthouse at Dukes Place in Jardine's Lookout, was sold for HK$680 million, or HK$99,024 per sq ft. The recent luxury transactions have helped bolster buyer confidence in the luxury market.
Going forward, further interest rate hikes are expected to cause more volatility in the financial market and make economic recovery more challenging. Furthermore, recent rising coronavirus cases fuel resurgence fears, which may dampen economic sentiment and market confidence. I expect homebuyers and investors to be more cautious and adopt a wait-and-see attitude in the coming months. 
---
Find or sell properties on Spacious
---
May 2022 : Buyers keen to snap up new flats despite rising interest rate cycle
The property market sentiment has not yet changed after the biggest interest rate rise in 22 years by the Hong Kong Monetary Authority (HKMA) earlier this month, with the base lending rate increased 50 basis points to 1.25%. Still, newly launched residential projects have drawn keen interest from homebuyers as indicated by the booming sales and massive oversubscription of new projects. One of which was the Grand Mayfair I atop Kam Sheung Road Station, jointly developed by Sino Land, K. Wah International and China Overseas Land and Investment. More than 13,000 registrations of interest were received, representing 33 times oversubscription of units available for sale. Another new residential project, Kerry Properties' 10 LaSalle in Ho Man Tin, also recorded good responses from buyers with 95% of units on the price lists sold out on the first day of sale. 
Despite Hong Kong's direction into a rate hike cycle, I believed it would not put an immediate and significant impact on the property market. The increase of the US Fed rate and HKMA base rate is well expected, and they are not a surprise to the market. Local commercial banks may not entirely follow suit with the pace and frequency of the future Fed rate hikes, as they try to keep lending rates steady. Besides, there were almost no new project launches in the first quarter which led to pent up demand. The strong response to the primary market once developers launched the new projects proves this. Going forward, I expect developers to be more aggressive in new project launches and before further rate rises. They also want to chase sales volumes due to the delay of launches, caused by the fifth wave of COVID.
---
Find or sell properties on Spacious
---
Mar 2022 : Fifth wave of COVID-19 hits hard to the residential sales
Owing to the outbreak of the fifth wave of the pandemic and market uncertainty such as geopolitical tension, market activity slowed down abruptly in both the primary and secondary residential markets. In February, residential transactions plunged 31.9% MoM to 2,912 cases. Among which, primary sales dropped drastically by 55.5% MoM, as developers have put their new projects on hold amid strict social distancing measures. 
The mass market is under pressure as both property owners and potential buyers turned cautious, putting sales and purchase plans on hold. In the face of the economic uncertainty and sharp correction of the local stock market, some sellers under financial pressure desperately sell their properties at discounts, resulting in some isolated unexpectedly low-price transactions in blue-chip estates.  
The luxury segment, on the other hand, is comparatively resilient. One of the recent notable transactions was a 4,230-sq ft-unit at Mount Nicholson at The Peak, which was sold for HK$583.2 million. In our lately published Wealth Report 2022, it reveals that Hong Kong's luxury home prices have remained the second highest in the world in terms of per unit price basis for the 15th year, which has reflected its scarcity and investment potential. 
In the near term, I expect the overall residential prices to remain under pressure with a low-level of sales activities, but market activity will resume normalcy and pick up swiftly once the pandemic is brought under control. Looking ahead, with the further rise of mortgage cap for homebuyers, more first-time buyers are expected to climb on the property ladder, stimulating small-to-medium sized home transactions.
---
Find or sell properties on Spacious
---
Jan 2022:Demand for first-hand properties in the New Territories sees strong growth
Hong Kong's economy has gradually improved over the last year and the property market has performed well in 2021, with property prices breaking record highs. A total of 74,297 transactions were recorded in the residential market, up 24% YoY, according to the Land Registry. The primary sales market was strong, with transaction volumes increasing by 15.2% YoY to 17,650 in 2021, accounting for 24% of the overall residential market.  
With the growing importance of new development areas, fostered by the "Northern Metropolis" concept, Yoho Hub, Sun Hung Kai Properties' project in Yuen Long, was oversubscribed by 11 times for the first batch, and around 80% of the launched units sold on the first day of sale. Recently, Chinachem acquired a residential site in Tai Po for HK$1.37 billion or HK$6,050 per sq ft, in line with market expectations. 
Going forward, I expect the primary residential market to remain robust, given the strong local demand, consistent low interest rate environment, and attractive discounts offered by developers. I also expect new projects in the New Territories to reap the benefits of the Northern Metropolis plans, and arouse strong interest and attention from homebuyers. However, the fifth wave of COVID-19 infections involving the Omicron variant may pose uncertainties and challenges to the purchase sentiment of the residential market in the short term.
---
Find or sell properties on Spacious
---
Nov 2021
:

Primary sales activity remains positive albeit momentum in secondary market eases

Over the past months, the transaction activities in the secondary residential market cooled a little, with a monthly decrease of 14.5% in October, largely owing to the fluctuation of the local stock market and concerns over a worsening Mainland Chinese economy. Despite that, new home sales were holding strong. Centralcon Properties' The Arles in Fo Tan and CK Asset's #LYOS in Hung Shui Kiu recorded massive oversubscriptions and brisk sales, reflecting a huge demand from local homebuyers.

Meanwhile, the luxury market continued to break record sale price – two flats at Phase three of Wheelock's ultra-luxury residential property Mount Nicholson at The Peak have sold for a combined HK$1.2 billion to the same buyer – reflecting Hong Kong's ultra-prime properties remain extremely sought-after by buyers even though the overall economy has not fully recovered from the impact of the pandemic. 

The land sale market also received enthusiastic response from developers. Lai Sun Development acquired the upscale residential site at No. 79 Broadcast Drive in Kowloon Tong for HK$1.61 billion, or an accommodation value of around HK$22,464 per sq ft through government tender. As the only land sale for a residential site in Kowloon in the current financial year, the winning bid was higher than the estimated price, demonstrating the developer's optimism towards the outlook of the luxury residential market in Hong Kong. 

Looking ahead, developers are likely to capitalise on positive buyer sentiments and continue the momentum of new project launches. Thanks to the gradual recovery of the local economy and the optimism of the reopening of border, I expect residential transaction activities to remain active for the rest of the year, particular the primary market as the demand stays high. I expect the overall home prices to increase 2-3% in the fourth quarter.
---
Find or sell properties on Spacious
---
Sep 2021:Another wave of record home prices may soon emerge
The residential market reflected strong demand in the past months amid the stable pandemic situation and a gradually improving local economy. In the primary market, newly launched projects have drawn keen interest from homebuyers as indicated by the massive oversubscription of new projects such as Wetland Seasons Bay I of Sun Hung Kai Properties in Tin Shui Wai. More than 10,000 registrations of interest were received, representing over 30 times oversubscription of the units available for sale. All units were sold in the form of price orders in the first two batches of sales.
Along with the brisk sales of new projects, home prices have been on the bull run for seven consecutive months, with the price index of private domestic units rising by 0.46% in July, just short of the record highs by 0.15% in May 2019, according to the Rating and Valuation Department.
The luxury market, likewise, continues the upbeat momentum in both sales and leasing activities, with some big-ticket deals recorded. The demand is still driven by local residents as the border restrictions remaining in place.
Supported by pent-up demand, low borrowing costs and hopes that Chinese mainland buyers will soon return, both home prices and rents are expected to rise further, approaching another wave of record prices. I expect buying power to persist well into end of the year, but potential buyers would be turning more cautious to chase after such high prices.
---
Find or sell properties on Spacious
---
Jun 2021:Brisk sales and higher house prices in residential market signal a fast recovery pace
Hong Kong's residential market turned upbeat after a gradual recovery in the local economy, which has pushed up the prices of lived-in homes in May to their highest level since May 2019. Hong Kong's GDP rebounded to a higher-than-expected 7.9% in Q1 2021, a 11-year high. Unemployment rate has also declined to 6% in May, edged down 0.4 percentage points compared with the previous period ending in April, as the local epidemic remains well-contained. 
In the mass market, new home sales are rising at the fastest pace in two years. First-hand property projects including Road King Infrastructure's SOUTHLAND atop Wong Chunk Hang Station and New World Development's Pavilia Farm III atop Tai Wai Station recorded booming sales, reflecting strong demand from local buyers. The super-luxury segment followed the upbeat momentum. For instance, a house at Severn 8 at The Peak, covering 3,581 sq ft, was sold for HK$470 million or HK$131,248 per sq ft; House 11G with 3,603 sq ft in Shouson Peak was sold for HK$310 million, or HK$86,075 per sq ft; and a 2,945-sq-ft duplex unit on 19/F of 21 Borrett Road was sold for HK$250 million, or HK$84,900 per sq ft.
Underpinned by vibrant domestic demand and an upwards trajectory in the city's economy, outlook for Hong Kong's residential market remained positive. Coupled with the potential resumption of cross-border travel as the government is looking to further ease quarantine rules, near-term demand from Chinese mainland buyers is expected to rise. I expect overall residential prices to increase by 3% to 5% this year.
---
Find or sell properties on Spacious
---
April 2021:Super-luxury residential sector surprises the market with record-breaking deals amid market downturn
As border restrictions keep foreign and Mainland Chinese buyers away, residential market activity has been largely reduced. Nonetheless, the super-prime segment remains remarkably resilient. Twenty-two big-ticket transactions for properties over HK$100 million in value were registered in the first quarter of 2021, with the total consideration surging 77.3% YoY to HK$5 billion.
Given the scarcity of home supply in Hong Kong's wealthiest districts, top-of-the-line residential assets continued to receive strong interest from the city's ultra-high-net-worth individuals (UHNWIs). Some examples that captured the market's attention include; a 3,378-sq ft unit and a 2,995-sq ft unit at CK Asset Holdings' new super-prime project 21 Borrett Road, in Mid-Levels Central, were sold for HK$136,000 per sq ft and HK$126,000 per sq ft, respectively. The former is touted to be Asia's most expensive residence in terms of unit price.
Also demonstrating resiliency is the high-end leasing market amid the downbeat overall market. A 10,804-sq ft house and a 7,704-sq ft house by Wharf Holdings at 11 Plantation Road on the Peak, were leased at a monthly rent of HK$1,350,000 and HK$880,000 per month respectively; a 3,819-sq-ft-house at 70 Deep Water Bay Road was leased for HK$440,000 per month.
Looking ahead, with the massive rollout of the vaccination campaign in Hong Kong and across the globe, economic sentiment and business confidence are expected to enjoy an upturn. As COVID-19 recedes, and when the border restrictions are relaxed, demand from expatriates and Mainland investors will return to the market. We expect both leasing and sales demand in the residential market, especially the prime segment, to be robust in the coming months.
---
Find or sell properties on Spacious
---
January 2021: Brisk sales in new projects and lucrative land sales show promise for 2021's property market
Despite the COVID-19 pandemic continues to rage on, new home sales are holding strong
heading into 2021, propelled by low interest rates and attractive discounts offered by developers. Wheelock Properties' new Monaco project in Kai Tak recorded brisk sales by new homebuyers, almost all units were sold out within several hours after sales began in two rounds of sales, showing strong support for the property market moving into 2021.
Meanwhile, the land sale market also received enthusiastic responses from developers. Wharf Holdings Ltd. acquired a luxury residential plot on Mansfield Road on The Peak for a record HK$12 billion, or an accommodation value of HK$46,270, making it the most expensive residential site in terms of unit price sold through government tender. It also marked the first sale of a parcel in Hong Kong's most prestigious neighbourhood since 2011.
This implies that developers are optimistic about the outlook of the luxury residential market despite the prevailing economic doldrums and protracted pandemic. A recent significant transaction on the Peak also helped bolster confidence in the market. A 4,266-sq-ft luxury flat on Mount Nicholson was sold for HK$490 million or about HK$115,000 per sq ft.
Looking ahead, developers will likely be active in launching new projects, thanks to the robust sales activity, a soaring stock market and the prospect of a market recovery in the second half of the year. I expect that the upcoming government land sales of luxury residential sites, including another super prime residential plot on Mansfield Road, The Peak and a Victoria Harbour-facing residential site in Kai Tak to draw strong interests from the developers, given the rarity and limited supply of luxury residential sites in the market.
---
Find or sell properties on Spacious
---
October 2020: Good opportunities for property developers amid Covid-19 downturn
Despite an economy in recession and deteriorating employment conditions, Hong Kong's homebuyers continue to snap up new homes as developers offer generous discounts and easier financing options. During the month, Sun Hung Kai Properties' Wetland Seasons Park Phase 3 in Tin Shui Wai sold 126 of 133 units, or 95% of launched flats, while Henderson Land sold 77 out of 80 units at Two Artlane in Sai Ying Pun. Furthermore, the first two batches of flats at New World Development and MTR's The Pavilia Farm in Tai Wai was heavily oversubscribed by 57 times, a highest record of subscription since 1997. The number of residential home deals rose more than 15% in September and were worth a total of HK$43.4 billion, data from the Land Registry showed. This proves the resilience of Hong Kong's residential property market even as crises mount.
Meanwhile, some developers are still active in the property market, reflecting their confidence and a broadly constructive view of the long-term outlook. Recently, Hang Lung properties acquired a premium land lot located in Shouson Hill for HK$2.56 billion, which was at a 20% discount to market valuation, and about 37% below the amount China Resources paid for an adjacent residential site in 2018. In August, ChinaChem Group acquired a residential site in Ho Chung, Sai Kung at $530 million in a tender with overwhelming responses totaling 22 tenderers. These transactions represent great opportunities for developers in a weaker economic cycle, allowing them to replenish their land bank at good prices, especially for rare luxury sites amid a long stretch of market correction.
Looking ahead, the COVID-19 pandemic will continue to be the major downside risk to the property market. I expect the housing prices to remain under pressure by the end of 2020. Nonetheless, given the cushioning effects of the government's massive relief measures, the persistently low interest rates environment, and low levels of new completions, housing demand is expected to be resilient and the primary market will be active with a number of new projects set for launch in the fourth quarter.
July 2020: Super luxury home sales in Hong Kong show signs of healthy appetite from buyers despite market downturn
Despite a contracting economy and the COVID-19 pandemic, top-of-the-line residential assets continued to draw interest from high net-worth individuals (HNWIs). The Hong Kong residential market especially the super luxury segment stayed firm. Over the March to June 2020 period, eight transactions were recorded for the ultra-prime sales (above US$25 million). Some recent notable transactions include: a flat in Mount Nicholson at the Peak, covering 4,596 sq ft., was sold for HK$533 million or HK$116,000 per sq ft. The transaction price was on par with that of a similar unit sold in December last year for about HK$115,000 per sq ft; a house at Mont Rouge in Kowloon Tong, covering 5,148 sq ft, was sold for HK$370 million or HK$71,873 per sq ft; a flat at Duke Place in Jardine's Lookout, covering 2,848 sq ft, was sold for HK$222 million, or HK$78,000 per sq ft. It shows that the purchasing power of HNWIs remains strong and they consider that luxury residential assets are a good way to preserve value. In uncertain times, the promise of long-term stability of prime assets will be particularly attractive to some investors.
Likewise, the luxury leasing market has proven resilient even in this tough market. Some major leasing deals were recorded over the last two months in Island South, with unit rents reaching HK$61–85 per sq ft. A 1,295 sq ft-unit at Residence Bel-Air was leased at HK$110,000, or HK$85 per sq ft; a 2,627 sq ft-unit at The Lily was leased at HK$175,000, or HK$67 per sq ft; and a 2,413 sq ft-unit at The Somerset was leased at HK$147,000, or HK$61 per sq ft.
However, a third wave of COVID-19 infections may pose further uncertainty to the already hard-hit economy and challenges in the labour market. As Hong Kong has to go back to tighter social distancing rules, sales activity and purchase sentiment of residential market will inevitably be affected. Looking ahead, I expect the luxury and super luxury segment to slightly slowdown in the coming months.
May 2020: Deferred demand drives home sales as COVID-19 concerns dissipate
Hong Kong's residential market has been hit by poor sentiment owing to multiple market headwinds since last year – the protracted US-China trade war, the unprecedented social rest that began in mid-2019, and the Covid-19 outbreak in January 2020. Consequently, the economy has been suffering from a deep recession, with GDP in Q1 2020 contracted sharply by 8.9% YoY, the worst on record, and an increasing unemployment rate to 4.2% in January to March, a record high in a decade. Despite these negative factors, the demand in the housing market is relatively resilient. It has only been deferred due to the virus hit but not disappeared. Entering May, with the epidemic situation in Hong Kong starting to ebb, the local property market is showing signs of recovery with improved sentiment and robust market activity. 
While Hong Kong's COVID-19 situation is improving, we also see the bright spots for the property sector given a combination of favorable factors: historical-low interest rate environment, government's relaxed mortgage rules, low levels of new completions, and the relatively affordable prices of the recently-launched new projects. Recently, the mass residential market has quickly rebounded with transactions picking up for both the new home sales and secondary market. At the same time, there were some notable transactions in the super-luxury market: a house at Mont Rouge in Kowloon Tong, covering 5,128 sq ft, was sold for HK$350 million or HK$68,253 per sq ft; an odd-numbered house at 1 Shouson Hill Road East in Shouson Hill, covering 2,657 sq ft, was sold for HK$198 million or HK$74,520 per sq ft; a duplex unit at 56 Repulse Bay Road in Repulse Bay, covering 5,076 sq ft, was sold for HK$270 million or HK$53,191 per sq ft. This shows that the investment appetite of some deep-pocketed buyers in the city remains.  
The recent improvement in the market activity once again reaffirms that Hong Kong's property market is resilient and quick to rebound from crisis. Given the spread of COVID-19 in the city is largely contained, homebuyer confidence is being restored. I expect that Hong Kong's property market will remain stable but in a downtrend momentum for a period of time, and the chances of a sharp fall in prices are unlikely.
---
Find or sell properties on Spacious
---
March 2020: A mixed picture of Hong Kong's luxury residential market in facing a bearish outlook
Hong Kong has been adversely impacted by mounting market headwinds since the second half of 2019, with the "triple whammy" of a protracted US-China trade war, unprecedented social unrest, and the coronavirus outbreak. Against this backdrop of growing uncertainties and a bearish economic outlook, we see a mixed picture in the luxury residential market. Many buyers have become cautious and adopted a wait-and-see attitude. With home buyer confidence ebbing, we have seen more cases of deposit forfeits in recent months. For instance, in February, a buyer cancelled the transaction of a four-bedroom unit at The Zumurud in Ho Man Tin, forfeiting the deposit of HK$3.5 million; 11 deposit forfeitures totaling nearly HK$15 million were recorded at Sun Hung Kai's newly launched project, St Martin in Pak Shek Kok in early March.
Conversely, some buyers see this as an opportunity to invest, to try to take advantage of price corrections and willing vendors. There were a handful of notable transactions that help to explain the stable demand prospects especially for the super luxury residential market. One of which was the HK$500 million deal in February of a 3,836 sq ft-detached house in Island View. The recorded unit price was high at HK$130,300 per sq ft. This shows that the investment appetite of some high net-worth individuals (HNWIs) in the city remains. Nevertheless, as the coronavirus has spread worldwide rapidly, it may pose new challenges and in China, the return to economic normalcy has been slow. All these have prompted investors to be more prudent and delay their investment decisions. Fortunately, the general lack of supply of luxury units will render Hong Kong's luxury homes to be one of the most reliable investments for capital gains in the long term. The SARS experience also tells us that Hong Kong is resilient and quick to rebound. Looking ahead, as market sentiment deteriorates, the luxury residential prices are expected to fall by about 10% in 2020, while the super-luxury residential market will remain relatively stable with a smaller decline.
---
Find or sell properties on Spacious
---
December 2019: Nano-flats no longer in demand
Thanks to the new housing initiatives that allow first-time buyers to take on bigger loans, announced in the Policy Address 2019, coupled with an interest-rate cut, the residential market has regained some traction amid downbeat market sentiment. According to the Land Registry, overall sales volume in the residential market increased 16% MoM to 4,001 units in October, after falling for two consecutive months. Buyers' stamp duty increased 2.8 times to HK$880 million, and the number of transactions jumped 1.8 times to 296. 
The new policy allows first-time buyers to borrow up to 90% of a property's value, up to a maximum property value of HK$8 million. The cap for those wanting to borrow 80% of a home's value will also be increased to HK$10 million, from HK$6 million. This makes more purchasing options available to potential buyers in the housing market. Consequently, we saw demand for small- to medium-sized units rebound.
However, the new policy is likely to deter developers from building micro-flats, as larger flats have become more affordable. Knight Frank expects the once-booming nano-market to taper off, as developers strategically shift away from building nano apartments in their projects in the pipeline.
As Hong Kong officially slipped into a technical recession in the third quarter, the impact of weaker economic activity is being felt across the city, and will linger through the coming year. On top of that, the unprecedented social unrest, which is now in its sixth month, has curbed market sentiment significantly. So even though the relaxation of the mortgage cap for first-time buyers and the lending rate cut provide some support for transaction volume, especially in the second-hand market, the longer term outlook is still negative. 
---
Find or sell properties on Spacious
---
September 2019: Challenges or Opportunities? Super luxury home sale defies market headwind
Despite ongoing social unrest and rising concerns about the worsening economy, top-of-the-line residential assets continued to draw interest from high net-worth individuals (HNWIs). In the past couple of months, the market has seen some notable transactions including three houses at Mount Nicholson, two houses at 45 Tai Tam Road and a villa at 90 Repulse Bay Road. We are talking about deals closing at a unit price of over HK$85,000 per sq ft.
Some say that the Mainland HNWIs are retreating from the Hong Kong property market as the trade war worsens. However, at a closer look at the recent sales at Mount Nicholson dispute that. All three houses sold there recently were purchased by the same Mainland investor via different forms of acquisitions, totalling HK$1.78 billion in just two months. One observation is that those currently in the super luxury market are veteran investors who are still interested in Hong Kong. Besides, our research into price correlations revealed that the luxury prices are a lot less sensitive to economic conditions and are proving inelastic.
When we take into account of the downbeat economic sentiment, the weak stock market, and a subsequent, albeit small, price correction in the mass market, we would argue that for a much more stable super luxury market, a price correction would be regarded by some as an entry signal given there has not been many opportunities like this in the past decade.
Even as the political storm in Hong Kong rumbles on, it seems that there is still appetite from super luxury buyers from across the border. London and New York may be favoured the most by HNWIs globally according to Knight Frank's City Wealth Index, but for Chinese HNWIs, Hong Kong still features strongly.
---
Find or sell properties on Spacious
---
July 2019: Top prices achieved in Hong Kong's super prime highlights attitudes of private capital
According to the latest Knight Frank research report, "The Wealth Report Insights", Hong Kong once again ranks at the top of the world's luxury residential markets.
Although this is not entirely surprising, the report further highlights the huge gap between the top prices that high net worth individuals (HNWIs) are paying and the average luxury price in Hong Kong (over 450% more).
This gap is wider in Hong Kong than in any other financial hub, such as New York and London. It seems that HNWIs are not afraid of paying top dollar for luxury properties here. Just last month, a Mainland investor with a foreign passport dished out HK$307 million for a duplex unit in Kowloon Tong after paying a stamp duty of over HK$90 million.
This seems to be going against general market sentiment, when some are thinking of moving capital out of the Asian financial hub because of the Sino-US trade dispute and local market uncertainty. However, Knight Frank's recent study on the correlation between house prices and the Hang Seng Index, itself a barometer of the city's economy, shows that although mass market prices are closely swayed by the HSI, luxury prices have been growing steadily and evenly over the past 10 years despite many social issues.
 
This provides private investors with a much clearer crystal ball and therefore a sharper focus about the type of real estate product to invest in. To some private investors, capital value growth stability trumps short-term gains, as Hong Kong's super prime market shows.
---
Find or sell properties on Spacious
---
May 2019: Record-high Kai Tak land prices demonstrate developers' confidence in Hong Kong's real estate market
The latest record-setting land sales in the Kai Tai development area are clear signs of developers' confidence in the future of Hong Kong's real estate market. On 7 May, a residential plot with GFA of 641,168 sq ft at Hong Kong's former Kai Tak Airport was sold to a consortium of six developers for a record HK$12.6 billion. And on 15 May, the first seafront commercial plot on the former runway with GFA of 863,000 sq ft was sold for a record land price of HK$11.1 billion.
These major investments by developers show their confidence in a continued increase in Hong Kong's property prices. This is also consistent with the rebound in housing prices, as property market sentiment has been strong with good sales in new projects.
However, the recent escalation in the China-US trade dispute may cause some developers to be more cautious and adopt a wait-and-see approach, especially for commercial property development, which is capital intensive and has a longer payback period. From a long-term perspective, owing to limited land supply in Hong Kong, land plots with superior locations offering a full view of Victoria Harbour are highly sought after. Knight Frank expects the record-high land prices in the Kai Tak area to boost market confidence and stimulate buyer sentiment, which will continue to fuel a surge in property prices citywide.
---
Find or sell properties on Spacious
---
March 2019: Stable demand for super luxury residential market despite external economic headwinds
Hong Kong ranks one of the world's top magnets for private wealth in terms of attracting cross border and domestic private capital investment, just after New York and London. It is also one of the top choices to live for the super wealthy according to the Knight Frank City Wealth Index, which measures the attractiveness of cities in terms of wealth growth, investment opportunities, and lifestyle. 
These top rankings for Hong Kong to explain the stable demand prospects for the super luxury residential market which represents the top 5% of the price bracket and tends to be associated with Hong Kong such as the Peak and the Southside. 
The Hong Kong market experienced a transaction volume and pricing cool in the second half of 2018. This was due in part to external headwinds from a slowed Chinese economy to an unstable Sino-US trade relationship. Despite this, Knight Frank expects the super luxury residential market to remain resilient compared to the mass market. Historically, the luxury market is proven to be less impacted by short term ups and downs in the economy and sentiments. 
---
Find or sell properties on Spacious
---
About Piers Brunner
Piers Brunner is the Chief Executive Officer for Greater China at Knight Frank, one of the world's leading independent property advisors on commercial and residential markets. Based in Hong Kong and a veteran in the real estate industry with almost 30 years of experience, Piers has a wealth of experience in tenant representation – one of the most crucial growth areas for Knight Frank's Greater China business.