Lunar New Year is the most important festival for many South-East Asia countries. Celebrated widely in China, Japan and Korea, you might just be surprised to know that different regions, even cities, celebrate it slightly differently.
New Year Shopping is a must-do for the Lunar New Year, a process that has started as people buying more luxurious goods than normal to celebrate the start of a new year. As part of tradition that had evolved with times, there are certain things that most families will be buying and keep in their house during the festivities. Here's four things that you need for Lunar New Year in Hong Kong and why you need them.
Candy Box 全盒
Though the translation is less elegant, the meaning of this candy box is that it's ten out of ten perfect. It is full of traditional sweets that's perfect for your visiting relatives or guests who come to wish you a Happy Lunar New Year. I remember having them as a child at my grandmother's, and I am sure many do too. Usually the Candy Box is made of wood and beautifully decorated, filled with sugar lotus seeds, sugar melon, lotus root sugar, pistachios, dates to name but a few. Although nowadays, you are just as likely to find chocolate and cookies inside.
Festive flower 年花
For decorative and festive purposes, the flower chosen is usually symbolic of luck for the coming year. There is a range of choice for this one, most people go for Narcissus as it is smaller and gives out a lovely fragrance; if it blooms during the New Year, it means that you will have a good year. Peach Blossom is also widely popular as it is said to bring luck in love.
Red Pocket 利士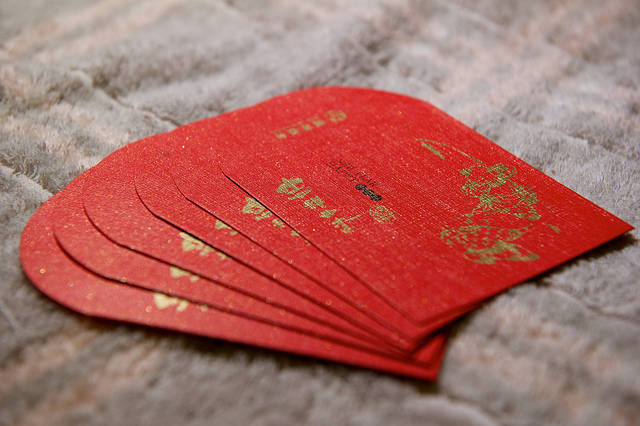 Whether you are a child or an adult, Red Pocket is something that every family will receive. In the Canto region – the tradition is that those who married will give out Red Pockets to the younger generations of the family. A certain amount of money is put in the red pocket and the number depends on the relationships of the giving to the receiving party.
Fai Chun 揮春
A traditional form of decoration for the Lunar New Year that dates back to the Song Dynasty, Fai Chun usually consist of Chinese Calligraphy of festive phrases on red paper that are put on doors and walls. In the present day there are many machine printed versions, decorated with cartoon characters and gold letters as well.