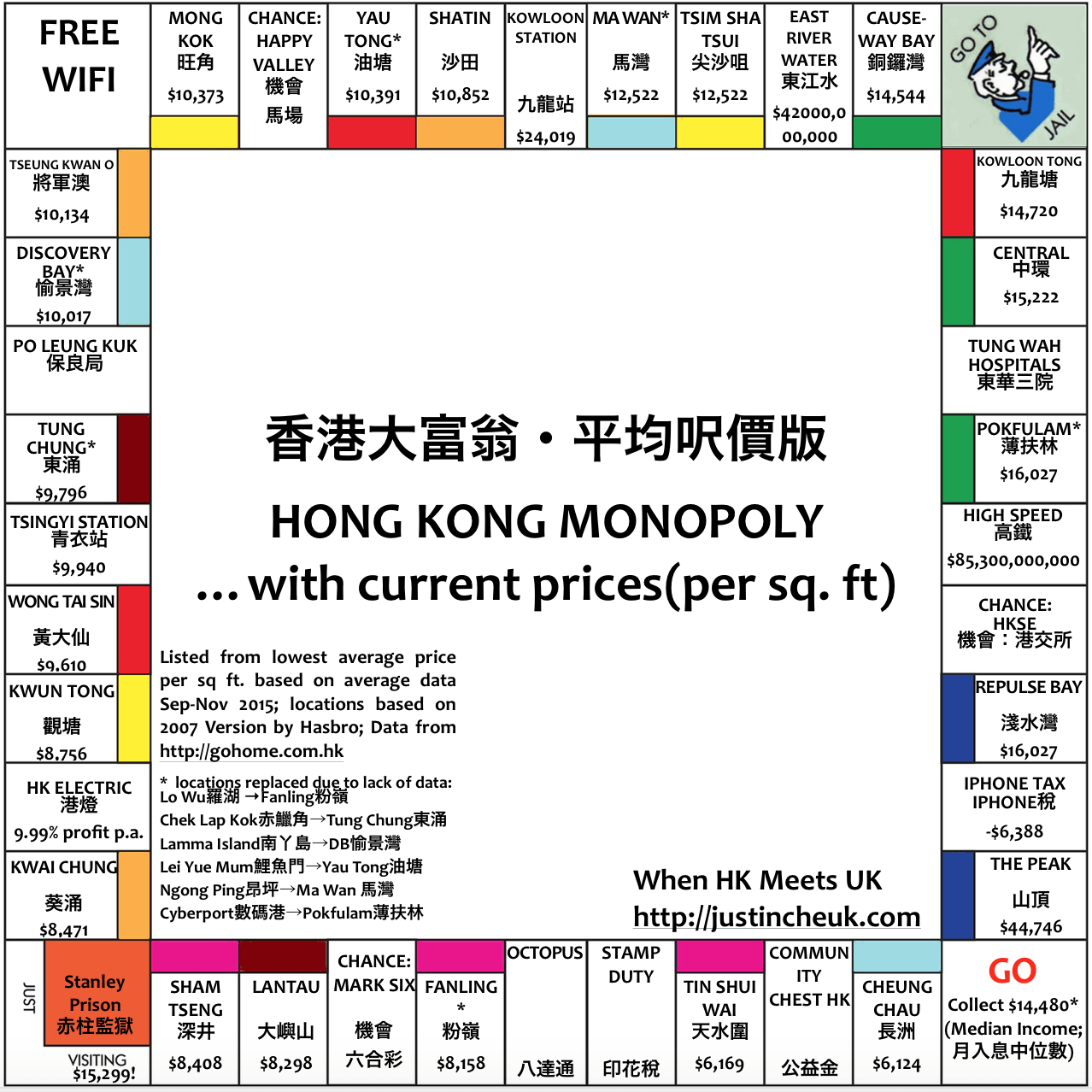 Photo Credit: Justin Cheuk
I believe everybody knows the board game Monopoly. A childhood game that we grow up with, we are all familiar with its concept of buying land, building houses or hotels and collecting rent. The ultimate winner is crowned when someone finally declares bankruptcy and the rest tallied up whoever has assembled the most wealth.
You are probably also aware that different countries have their own version of the monopoly. The Hong Kong Monopoly is designed based on the US and English version using district names as opposed to street names. I remember playing the Hong Kong version when I was little, with the cheapest land is the brown coloured Chek Lap Kok and Mui Wo, and the most expensive being the dark blue Victoria Peak and Repulse Bay.
Recently, a clever chap by the name of Justin Cheuk had thought to himself: what if the monopoly's price reflects the current Hong Kong real estate price? Creating an insightful infographic not unlike the concept in HK property price around MTR station, combining a piece of our childhood with the harsh reality.
Gone are the cheap Chek Lap Kok and Mui Wo at HK$60, instead, the cheapest land is in Cheung Chau at a whooping HK$6,124/square feet. The most expensive crown title is still retained by the Peak at HK$44,746/square feet, with the second highest Repulse Bay lacking behind at HK$16,027/square feet.
With added humour like Free Wifi, IPhone Tax, Justin managed to mirror the Hong Kong world onto a children's board game. Would you dare to play this version of the game with a very real price tag attached?
Given that the average salary of Hong Kongers ballpark around HK$14,480, most of us cannot afford to buy a house in Hong Kong. No wonder most young professionals either live at home, or decided to rent in Hong Kong.