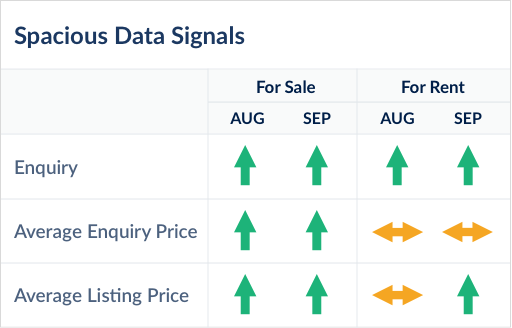 Spacious Real Estate Data Insider – September
Spacious Data Signal: Sales Maintains Strength, Rental Strengthens
Sale Data Signal – All three data signals remain positive, indicating that transaction volume and pricing should continue to rise in the near term.
Rental Data Signal – Data signals indicate a stronger probability of increased rental pricing in the near term. The Listing Price signal has strengthened significantly in recent months, we expand on this data theme below.
Market Observations
Starter Home Scheme – In her first policy address, Hong Kong Chief Executive Carrie Lam announced her much anticipated "Starter Home" scheme, an effort to a improve housing affordability for middle-class and first-time buyers. Spacious anticipates no short-term market impact from the announcement given that the number of new apartments available under the scheme is expected to be limited and the scheme will take several years to fully ramp up.
US Fed Funds Rate – The Fed Fund futures markets are pricing in a 92% probability of another quarter point rate hike by the end of the calendar year. This is a significant increase from only a 41% probability one month ago. Spacious believes interest rates and rate expectations are a top risk to the Hong Kong property market given the well-documented affordability metrics that rank Hong Kong as the least affordable market in the world. The current mortgage payment to household income ratio is currently 76%, well above the long-term average of 50%. Any increase in Hong Kong interest rates will make the private housing market even more unaffordable.
Rental Listing Price Strengthening
Some of the interesting insights Spacious uncovered recently related to listing price growth in the Hong Kong rental market.
Strong Rental Listing Price Growth in 2017 – Listing prices for Hong Kong rentals have shown strong growth in 2017 vs. 2016. 3Q 2017 was a particularly strong quarter for growth with listing prices gaining 2.4% during the quarter.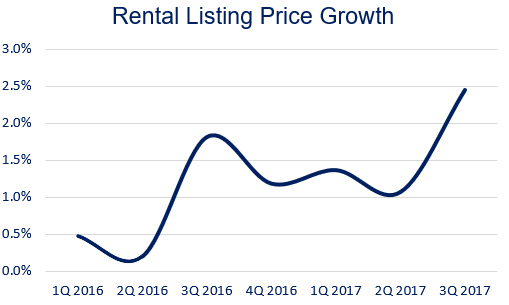 Broad-Based Rental Listing Price Strength – Spacious analyses over 100 neighbourhoods in Hong Kong. To better examine the breadth of the rental listing price trend we examined listing prices on the neighbourhood level. We found broad strength for rental listing price growth with 80% of Hong Kong neighbourhoods experiencing listing price increases from Jan to Sep 2017 vs. only 40% through the same period in 2016. Of the neighbourhoods analysed, the average price increase was 5% from Jan to Sep 2017 vs. a price decline of 1% during the same period in 2016.
Strongest Rental Listing Price Increases by Neighbourhood – The 5 strongest performing neighbourhoods saw rental listing prices increase an average of 10.8% from Jan to Sep 2017. It is interesting to note, that these same neighbourhoods saw their listing prices decline by an average of 4.0% through the same period in 2016.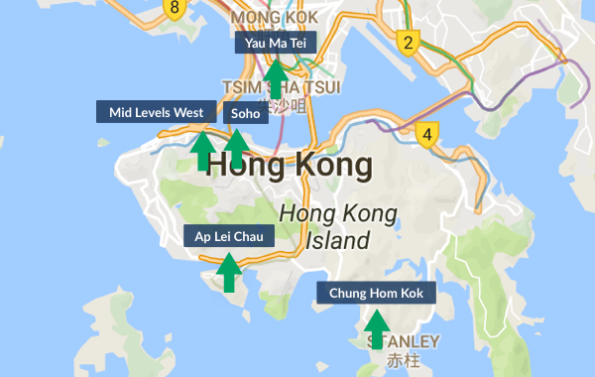 Rental Listing Price Reductions by Neighbourhood – The 5 weakest performing neighbourhoods saw rental listing prices reduced by an average of 2.5%.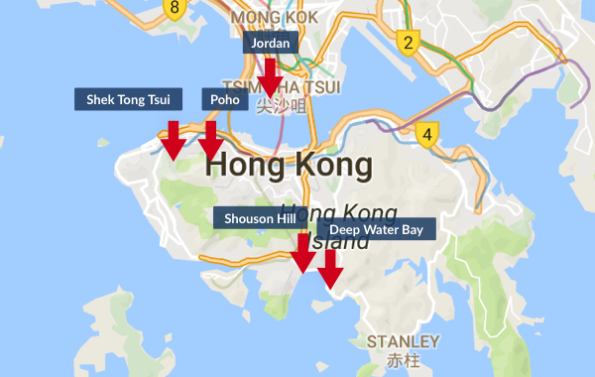 August Data Signal Review – Hong Kong residential transactions increased 40% in September (MoM), this was in-line with our data signal prediction. Complete price data for September remains forthcoming, but early indications show mixed/flat pricing in the secondary market. We note that primary market sales transactions nearly doubled in September (MoM) and made up 42% of total transaction in September, this is the highest percentage of primary sales to total sales since September 2016 (44%). Primary market properties typically transact at a higher price per square foot than properties in the secondary market.
Spacious Data
Spacious' proprietary data is being used to generate real-time, independent, and actionable insights. Spacious' vast property and demographics data can deliver valuable insights for your organization. Contact Spacious to learn more about how your organization can gain additional access to Spacious data.
Please email me to learn more: james@spacious.hk