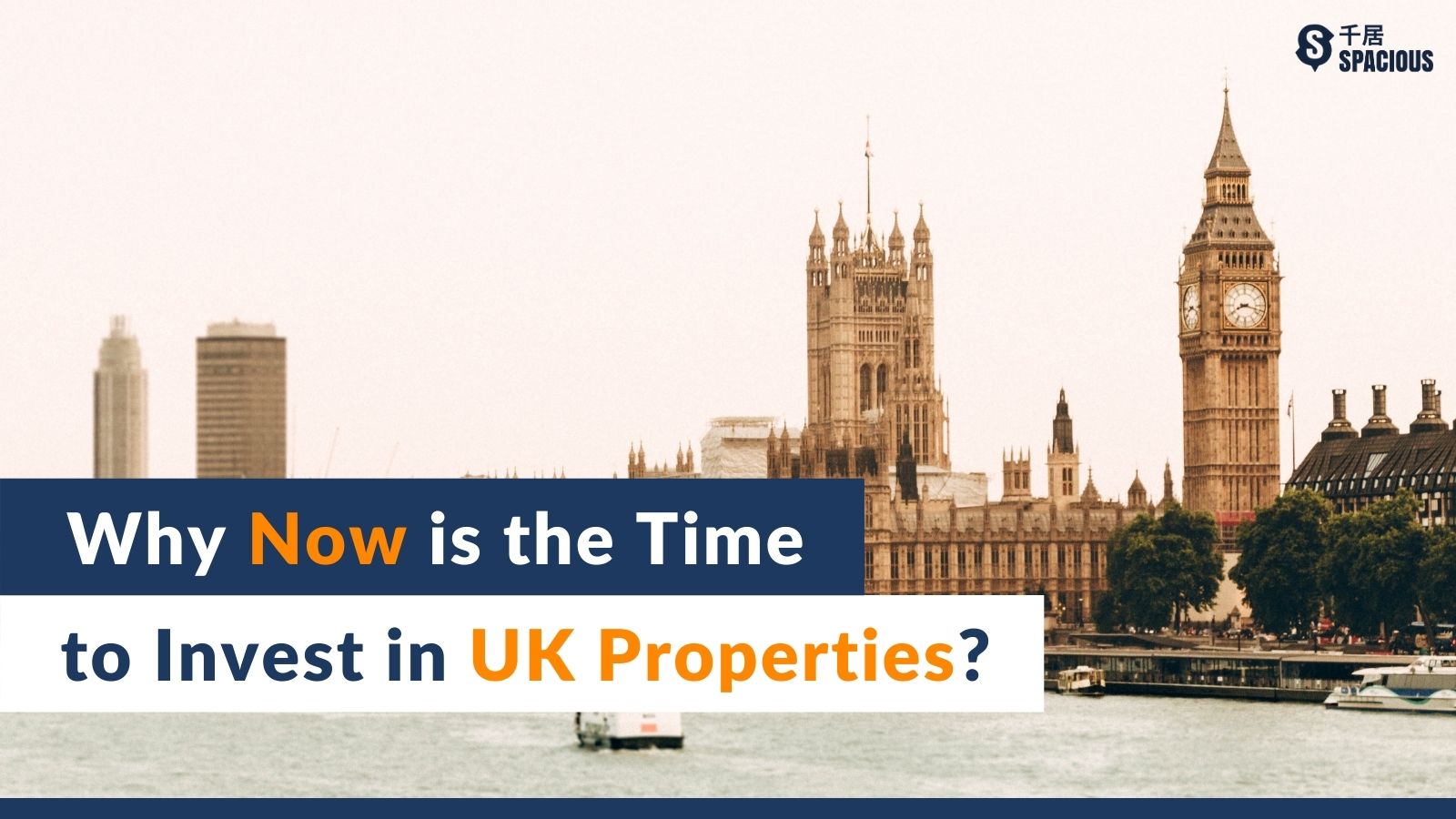 Welcome to Spacious' series of regular Overseas Property Digest focusing on current events shaping the world of property. In each series, we will be spotlighting on the core fundamentals of popular property destinations for Hong Kong buyers and investors.
Why Act Now to Buy UK Property?
Over the last 12 months, a lot has happened in Hong Kong with various events that have shaped and changed many Hongkongers' motivation behind buying overseas property. The growing preference to secure an alternative homeplace is taking more of a precedence and have become part of the staple of wealth preservation and growth consideration when it comes to overseas property.
With the introduction of the UK's BNO visa system which allows full citizenship rights, many Hong Kong residents are finding more reasons to relocate to Britain. A fact recognised by British developers and agents both of which have wasted no time in stepping up its promotion of UK property in Hong Kong. Before the visa announcement, investing in UK property has been seen as the privy to the well-offs, but now with 2.9 million BNO passport holders realising their eligibility to live and work in the UK, a new wave of potential UK property buyers have come onto the market.
Find UK properties on Spacious
What's Driving the Surge in Demand for UK Property?
Having a legitimate and simple pathway to UK citizenship means one has to plan for emigrating which requires a tremendous amount of planning. It's a life-changing experience with important decisions that need to be made in advance of the move. Many questions need to be answered; picking where to live to maximize the best opportunities for jobs, schooling, lifestyle and housing affordability comes to mind. With so many considerations, why are so many Hongkongers so eager to secure a UK property now?
Find properties in Manchester on Spacious
5 Reasons Why for the Surge in Demand
Market fundamentals and changes in policies have a direct impact on purchasing decisions. Right now, there are some very favourable terms for getting the best value for money when buying UK property. There are 5 key favourable fundamentals that are all in place for buyers, however, some of these have a narrow window of opportunity for buyers to act upon to make substantial savings on the purchase price.
1. Residency Visa Made Easy!*
Emigrating to the UK has never been so easy for both individuals and family units, the opportunity for a fresh start has added to the impetus in property interest.
BNO status holders together with their dependents can apply for the BNO residency visa starting from January 2021

There are no skills or language tests nor minimum income requirements, just prove you can financially support yourself

Right to work and study in the UK for up to five years and in the sixth year the opportunity to take up British citizenship
*For full details, please refer to British Government website.
2. Pandemic Allows for Price Negotiation?
There are many conflicting research data as to where housing prices are going. Some districts will fare better than others, so localized research is highly recommended. However, the highly regarded Nationwide house price index for May, as reported by the BBC, showed prices fell 1.7% from the previous month, the largest decline for 11 years. Low consumer confidence induced by lock-down has resulted in housing sales volumes contracting significantly, which opens opportunity for price negotiations for serious buyers. Some developers are also offering incentives such as covering solicitors and stamp duty fees and providing quality fixture and furnishing packages, which can all add up to thousands of pounds in savings.
3. Favourable Currency Exchange Rates
The British pound is at historical low against the Hong Kong dollar, according to Markets.com "sterling has experienced one of its steepest declines in memory". This effectively means buying at a discount compared to say just 2 years ago, the weak pound makes it cheaper for Hong Kong investors to buy property in the UK.
4. Temporary Relief on Stamp Duty Land Tax & Foreign Buyers Tax*
Until 31 March 2021 buyers will only have to pay stamp duty on properties over the amount of £500,000 (previously it was set at £125,000, or £300,000 for first-time buyers) in what the Chancellor termed Stamp Duty holiday, a pandemic relief measure to boost the housing market in England and Northern Ireland. This is only a temporary measure till 31 March 2021.
Another timeline is the suspended 2% Stamp Duty Land Tax to overseas buyers, which will be enacted from April 2021.
These are significant tax savings to a buyer's wallet, and a strong driver to act now in order to conclude a purchase transaction before the stamp duty holiday is over in March and the onset of the 2% stamp duty surcharge in April 2021.
* For full details, please refer to British Government website, House of Commons Library.
5. Low Interest UK Mortgage Borrowing*
Statista.com reported as of March 2020, 10-year fixed mortgage rates were at their lowest since recording began by the Bank of England at 2.44 percent. With a projected trend towards low cost of borrowing, it's good news for those requiring financing.
Find properties in Liverpool on Spacious
Buyer's Motivation
Hong Kong's new wave of overseas property buyers motivated by immigration purpose tend to have a different bundle of purchasing considerations compared to investors. This mindset shift puts more emphasis towards family, lifestyle, affordability and job opportunity considerations. This means more and more British cities are being explored as potential new home bases. The question, where to buy, have become more of a personal choice, which have opened up more opportunities for some of Britain's second and even third tier cities.
Find properties in Leeds on Spacious
Where to Buy – London and Look North!
London & Commuter Belt
For many, London comes to mind when considering a property in the UK; after all, it's one of the greatest capital cities and accounts for a quarter of the UK's GDP which naturally means it has the highest concentration of job opportunities. London can be comparatively expensive and crowded, but on rare occasions, there are developments that offer striking design and amazing views over unique wetland and the City of London at an affordable price of HKD 4.38M. For those looking for prestigious and fashionable addresses in the heart of the city, a desirable Chelsea house at HKD 29.8M is still within reach for many Hong Kongers. London commuter belt towns offer a compromise between hectic city living and the needs of a family; prices are generally lower in commuter belt towns like Brentwood and Slough which confers quick and easy access to central London. Commuter towns are ideal for Hongkongers wanting all the benefits of a world-class city but not the top dollar associated with it.
Northern Cities
Great northern cities like Manchester, Leeds, and Liverpool all have sound investment fundamentals such as an expanding population, gravitating centres for leading corporation headquarters, growing financial hubs, solid manufacturing bases, presence of renowned universities and economic boom driven by private and government investments.
Properties are very affordable compared to Hong Kong prices, yet northern cities also provide great yield. For buy-to-lets located in prime city centres of second-tier northern cities like Bradford, Hull, Barnsley and Derby prices can be low as GBP 55,000 with 6% yield to large luxurious apartment yielding 6.8% for asking price of HKD1.39M; a first-tier city with higher potentials can typically yield 7% with a rental guarantee for only HKD 1.64M. Northern cities may not have all the bells and whistles compared to London but do offer far greater choices for your dollar.
Find properties in London on Spacious