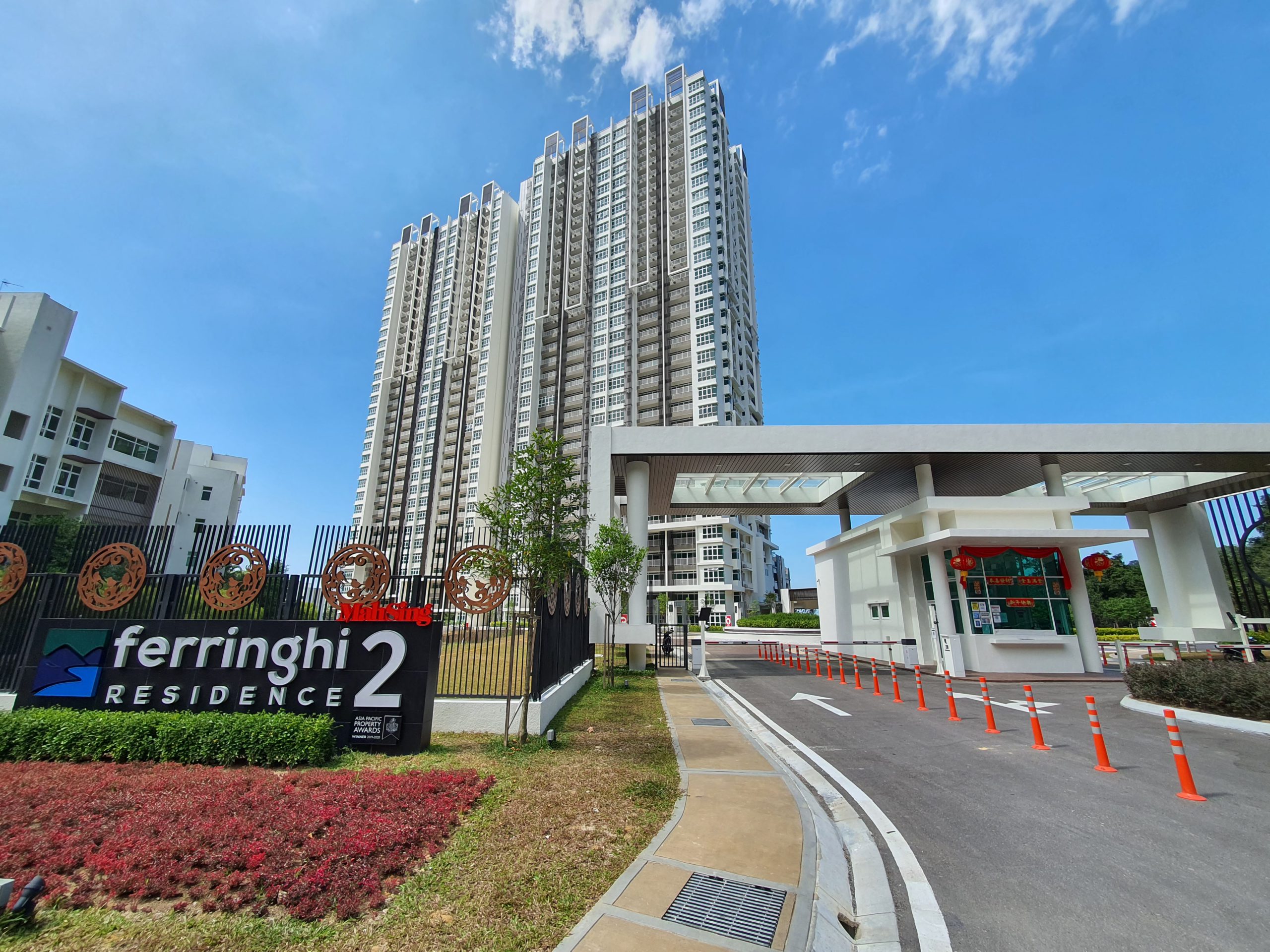 Content by Mah Sing Group
Embrace your desired lifestyle at Ferringhi Residence 2, the best resort home in Penang, Malaysia. Living at this exotic tropical paradise is a dream come true. A slower pace of life is yours for the taking. At the same time, there is never a dull moment as an abundance of exciting attractions are around every corner for you to explore and discover.
Splendours abound at Ferringhi Residence 2 where you can experience resort living on a whole new level every day. Away from the hustle and bustle of the city, Ferringhi Residence 2 is your very own sanctuary for blissful serenity and privacy. It consists of three towers which are:
1. Tower A: 10-storey condominium with 124 units. Open for registration.
2. Tower B: 32-storey condominium with 478 units.
3. Tower C: 4-storey condominium with 30 units. Open for registration.
Strategically situated in the heart of Batu Ferringhi, one of Penang's sought-after locations, Ferringhi Residence 2 is close to famous pristine beaches, so you can relish the sun, sand and sea anytime. Furthermore, it is within reach of resorts, 5-star hotels, local and international dining, as well as the vibrant night market. It also provides easy access to a medley of amenities such as established international schools and much-frequented malls.
Not only is this residence ready to move in, but it also boasts mesmerising and unobstructed views of nature during the day and night, namely the picturesque greenery of the hill and the resplendence of the Batu Ferringhi sea. You get to pick which scenery and soak it up from the balcony or plush interiors. What's more, you can enjoy a direct view of the outdoors amidst fresh air through the large 16-foot-wide openings.
Ferringhi Residence 2 is thoughtfully designed to accommodate the needs and preferences of all kinds of families – be it couples, small families, large families, or multi-generational families. Tower B offers three types of units with different built-up sizes:
1. Type A spans 1,494 sq. ft. and has 3 bedrooms, 3 bathrooms and 1 balcony.
2. Type B spans 1,565 sq. ft. and has 3+1 bedrooms, 4 bathrooms and 1 balcony.
3. Type E spans 1,208 sq. ft. and has 2 bedrooms, 2 bathrooms and 1 balcony.
Featuring generous provisions of glazed windows that bring in natural lighting and promote excellent ventilation, every unit has an airy, tranquil and light ambience to keep you comfortable throughout the day. The well-manicured landscaped gardens surrounding the condominium and the versatile living spaces welcome you to relax your senses, revel in your favourite activities, spend quality time with loved ones and have conversations over family meals.
The overall layout is designed in such a way that maximises the visual link of the modern interiors to the exterior. This look, combined with the well-planned open-plan layout of the living area, dining area and kitchen lend a spacious feel to the opulent condominium. With plenty of space at hand, you can let your creativity flow as there are flexible options, such as enhancing the rooms with decorative items or creating a powder room between the room and toilet.
Your well-being matters to Mah Sing Group. As such, Ferringhi Residence 2 is further enriched with vigilant 24/7 security measures in place to keep your worries at bay. It also utilises an efficient pneumatic controlled waste collection system. Every unit has access to the tunnel that will automatically suck in the refuse, so you can maintain the cleanliness and tidiness of your precious home with no hassle.
Enjoy Full-Fledged Facilities for Your Recreation and Wellness
The wide-ranging facilities at Ferringhi Residence 2 make every day feel like a vacation. Whether you want to stay active, keep up your workout regime, play your preferred sport, swim and splash, have fun with your little ones or socialise with others, you can do it all and engage in a vibrant and active lifestyle.
The resort-inspired, family-oriented, and tropical-themed facilities are surrounded by lush verdancy and thematic landscapes. These create a soothing environment that will rejuvenate your senses and refresh your mind. They comprise the following:
Level 5
1. Mini maze garden
2. Playground
3. Party trapezoid
4. Tennis court
5. Table games
6. BBQ hexagon
7. Outdoor fitness
8. Indoor gym
9. Wading pool
10. Swimming pool
11. Infrared sauna
12. Outdoor Jacuzzi (Gender Segregated)
13. Multi-functional hall
14. Mini pavilion
15. Main shelter
Level 1
16. Renaissance Garden
17. Renaissance Garden
18. Renaissance Garden
19. Drop off area
Winner of Multiple Prestigious Awards
The impeccably constructed Ferringhi Residence 2 is an absolute marvel from the outside to the inside. Its amalgam of sleek architectural design, well-manicured landscaping, enthralling views, meticulously planned living spaces and comprehensive facilities has landed it an array of premier awards and accolades as follows:
– The Northern Star Development Award (StarProperty.my Awards 2019)
– Best Overseas Destination Development (Asean Property Awards (APA))
– Five Star Best Residential Development for Malaysia (Asia Pacific Property Awards 2019-2020)
– Best Leisure Living Development (Property Insight Prestigious Developer Awards (PIPDA) 2019)
Bask In a Fusion of Urban Charm and Colourful Heritage
Penang is one of the most dynamic and developed states in Malaysia. It has a diverse demographic of ethnicities, cultures and traditions in its two parts, namely Penang Island and the mainland (Seberang Perai). Whether you are looking for nature, culture, adventure, food, or anything else, the Pearl of the Orient has them in spades.
Sunny beaches, breath-taking greenery, delicious cuisines, well-preserved heritage buildings, shopping malls and various entertainment options are dotted throughout Penang. A testament to its rich offerings, it has bagged a multitude of awards over the years, such as:
– Second Top Spot of Best Places to Visit in 2017 (CNN, 2017)
– The 15 Best Cities in the World for Food (The Culture Trip, 2016)
– Top 10 Cities to Visit in 2016 (Lonely Planet, 2016)
– The 10 Best Budget Travel Destinations for 2016 (Forbes, 2015)
– Must-See Spots in 2016 (Los Angeles Times, 2015)
– The World's 21 Best Cities for Retirement (US News, 2013)
Discover the Rich Colonial Legacy
Its capital city, George Town was officially inscribed as a UNESCO World Heritage Site on 7th July 2008. Encapsulating the essence of a melting pot of cultures, the renowned heritage zone can be covered on foot, bicycle, or trishaw. A host of residential and commercial buildings can be found here, comprising mosques, churches, shophouses, government offices and monuments.
The remarkable heritage zone of George Town features the multi-cultural heritage and tradition of Asia as well as European colonial influences and a myriad of styles, including the Indo-Malay Palladian Style, Early Transitional Style, Neo Classical Style and more. These make for a highly distinctive townscape.
Immerse Yourself in the Beauty of Nature
Nature lovers and outdoor enthusiasts, rejoice! You will be pleased to feast your eyes on Penang's treasure trove of flourishing species of flora and fauna, as well as mesmeric beaches, spectacular waterfalls, rocky shores, verdant parks, gardens and rolling hills, well-run farms, and lots more.
Savour the Assortment of Flavours
Touted as the culinary haven of Malaysia, Penang serves up a varied range of gastronomic delicacies that reflect the Malay, Chinese, Indian and Nyonya ethnic mix of Malaysia, combined with influences from other parts of the world. It has everything, from world-famous street food and local favourites to Western delights that will tantalise your tastebuds.
Among the must-eats are asam laksa (noodles in fish broth), char kway teow (stir-fried flat noodles), nasi lemak (rice paired with ingredients like sambal, anchovies, peanuts and a boiled egg), nasi kandar (rice with curry and other dishes), oh chien (fried oyster omelette), lor bak (deep fried minced pork meat rolls) and cendol (a traditional iced dessert that is topped with ingredients such as green jelly, red beans and fresh coconut milk).
Own a Highly Sought-After Address at a Thriving Location
Dubbed the Silicon Valley of the East, Penang continues to live up to this, as seen by its rapid industrial and economic development. This cosmopolitan city houses numerous flourishing industrial parks and the Free Industrial Zone, as well as the manufacturing and related services operations of global corporate leaders and prominent multinational companies.
Connect with the Locals
Communication is a breeze due to Penang's multilingual community. Several languages are commonly used, namely English, Mandarin, Bahasa Malaysia, and Tamil, plus Hokkien and Cantonese dialects.
Travel Around Penang with Ease
Places of work, leisure, education and so much more are easily reachable as there are ample transportation options for you to choose from:
– Buses such as Rapid Penang, Hop-On Hop-Off (HOHO) and Central Area Transit (CAT) shuttle service
– Ferry services between Penang Island (George Town) and the mainland (Butterworth)
– Taxis that travel the routes throughout Penang Island
– Ride-sharing apps (for instance, Grab)
– Trishaw rides
Some LRT projects in the pipeline include:
– Bayan Lepas LRT
– Ayer Itam Monorail
– Tanjung Tokong Monorail
– Raja Uda-Sg Nyiur-Bukit Mertajam-Permatang Tinggi Monorail
– Extension (BRT) northwards to Kepala Batas tram
Whether you are heading to a place that is on the island or the mainland, you can rest assured for Penang offers accessibility to a network of roads, the iconic Penang Bridge, Penang Second Bridge and North-South Expressway.
Get the Best of Both Worlds
Direct flights between Penang and Hong Kong via different airlines are available at Penang International Airport. So the best of both worlds is in your grasp. You can reside in a luxurious Penang condominium and be able to conveniently visit your home country and return to Penang as your destination is just one plane ride away.
Malaysia My Second Home (MM2H) Programme
Are you interested in staying in Malaysia? Then be sure to look into the Malaysia My Second Home (MM2H) programme. It is an initiative by the government of Malaysia to welcome and enable foreign citizens from all over the world to stay in Malaysia for a longer duration. Participants who fulfil certain criteria can look forward to many benefits as stated below:
1. 10-year renewable multiple entry social visit pass.
2. Can bring dependents such as spouse, unmarried children below age 21 and parents or parents-in-law.
3. Can make investments and own businesses in Malaysia.
4. Can employ one full-time maid in Malaysia.
5. Tax-free income remitted into Malaysia.
6. Can let your children aged below 18 years old pursue tertiary education in Malaysia.
7. Those aged 50 years old and above are permitted to work 20 hours per week in critical sectors.
8. Can purchase any number of residential properties in Malaysia, subject to the minimum price established for foreigners by different states.
*Terms and conditions apply.
For more information, visit http://www.mm2h.gov.my/
An Eminent and Reputable Property Developer
Backed by more than two decades of experience and expertise in property development, Mah Sing Group has built an enviable reputation as one of the leading real estate developers in Malaysia. Staying true to its tagline, 'Reinvent Spaces. Enhance Life', this long-established, award-winning property developer has cemented a solid track record of strategically located projects of uncompromising quality. Every project combines the best of aesthetics and function in line with the demands of modern lifestyles.
Its ever-expanding portfolio features local projects situated in the hotspots of Greater Kuala Lumpur, Klang Valley, Penang Island (Northern Corridor Economic Region), Johor Bahru and Kota Kinabalu. The Group has successfully delivered scores of residential properties, industrial projects and commercial projects composed of Grade A office buildings, offices, shops, retail and SoHo.
Contemporary Condo Luxuries Await in Penang
Ferringhi Residence 2 offers everything that you are seeking – spaces to suit every family, the finest lifestyle facilities, awe-inspiring vista, a reposeful environment, and a whole lot more at the prime address of Batu Ferringhi. Don't miss out on the opportunity to be part of an exclusive community that lives in the best resort home in Penang.
Get your Ferringhi Residence 2 unit at https://ferringhiresidence2.com/booking/ in just a few simple steps. For more enquiries, log on to https://ferringhiresidence2.com/ or call +852 3008 2070 / +604-291 3109 now.