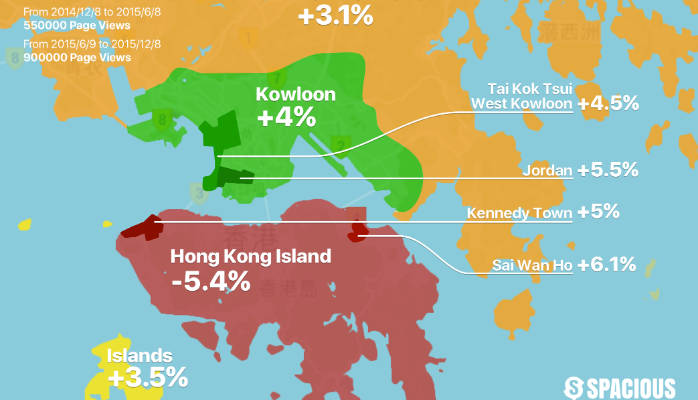 I am sure that everyone is familiar with the house prices of Hong Kong, which always seems to be at an elevated level. It's no secret that this extremely high house price situation is even more notorious on Hong Kong Island. According to data gathered here at Spacious for rent search, an increasing amount of expats and English speakers are moving away from the hub known as Hong Kong Island to the Dark side, and West Kowloon is one of the most popular in search.
Here's the infographic created based on data gathered over twelve months from December 2016 to December 2015, which had recently been featured on South China Morning Post. Split into two halves, you can compare the change in search volumes at each location There is a decrease in overall search volumes of 5.4% on Hong Kong Island, and if you take the increase in Kennedy Town and Sai Wan Ho into account, it might even be larger than that! Kennedy Town's boost can be attributed to its recently opened MTR station in 2014.
However, the data at Sai Wai Ho was initially surprising, however, considering the two old favourite neighbourhoods Fortress Hill and North Point that used to be more affordable a few years back had risen significantly in price, it makes sense that Sai Wai Ho, with its commutable distance and lower rental price is the logical relocation point. In fact, According to experts, you should only spend around 33% of your salary/income on rent. So if you want to live on Hong Kong Island comfortably, you need to be earning at least HKD$50,000 Hong Kong dollars in monthly salary!
In contrast, Kowloon, New Territories and the Islands all show an increase in search volume in the last six months of 4%, 3.1% and 3.5% respectively. Sai Kung is the most popular among the New Territories District, and in Kowloon, the title goes to Tai Kok Tsui, West Kowloon and Jordan.
If you don't believe in our data, then you can play with the search filters yourself on our Spacious for rent page: