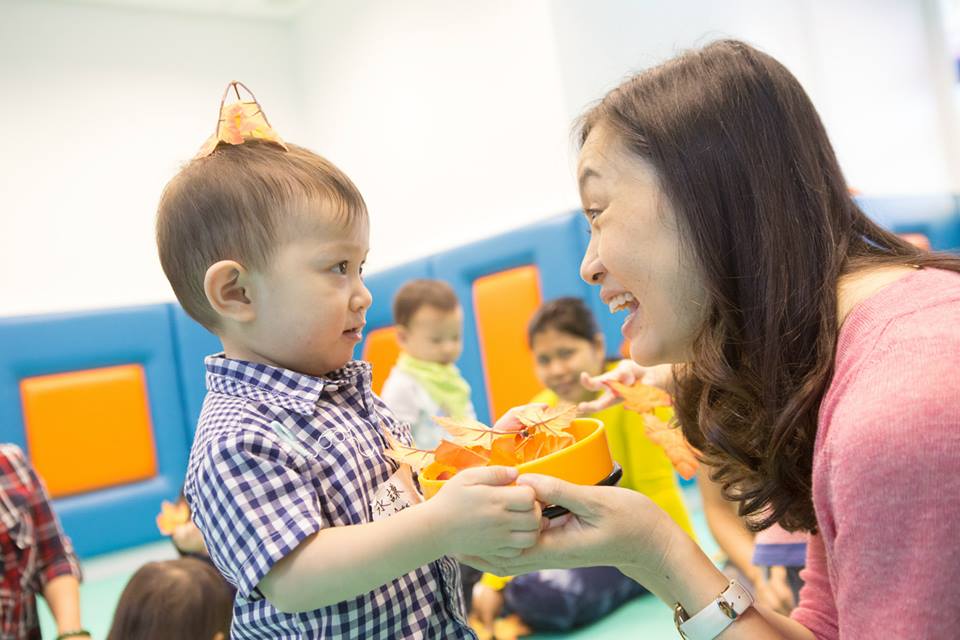 If you have kids in Hong Kong, you definitely need playgroups in your life. But where can you find one that is the best, high quality, close to your neighbourhood and fun for your loved ones? Want to know which ones are worth your time? Check out these 5 playgroups in Hong Kong!
1. Kinder U, Leighton Road – Causeway Bay
Located in Causeway Bay, Kinder U is a renowned playgroup with famous customers such as model Christine Au Yang and Qi Qi – even tycoon Lee Shau Kee's granddaughter is one of the students there. Kinder U encourages the efficiency of right brain learning method, which implies that young children can master hundreds to thousands of vocabulary words by their automatic brain process functions for pictures.
The centre provides playgroup and reading club courses for Chinese and English reading, where children can learn dancing, gymnastics, English and maths foundation. Just so you know, Rightmind International Nursery and Kindergarten in the Southern district is the sister branch of Kinder U.
Kinder U: 4/F, 111 Leighton Road, Causeway Bay, Hong Kong
Buy or rent an apartment in Causeway Bay
2. Kiddo Zone International Playschool – Hysan Avenue, Causeway Bay
As another playgroup centre located in Causeway Bay, Kiddo Zone applies British style education to their courses – their courses are designed with reference to the pre-primary education system in the United Kingdom. To perfect the British education system, even some of the teachers are from the UK.
The playgroup courses are suitable for children from ages 6 months to 6 years old, and their courses put emphasis on 5Q development, which include Intelligence, Emotional, Physical, creativity and social quotients. Fun fact: celebrity Michelle Reis' son was one of the students at Kiddo Zone!
Kiddo Zone International Playschool: 901, 1 Hysan Avenue, Causeway Bay
3. SPRING – Gloucester Road, Wan Chai
Don't want to learn your ABC's and 123's anymore? You may want to consider SPRING in Wan Chai. SPRING suggests that children should maximise their physical potential when they are small, which is why the school provides Supersport, Sensory, Cooking and the famous KindyRoo courses imported from Australia. Young students can improve their muscle coordination, balance and teamwork by playing on balance beams, trampolines and various dances in the spacious centre.
The decoration is also one of SPRING's key highlights, as their wooden furniture consisting of the colour tones white, blue and grass green presents a warm and natural environment for the kids. No wonder children love learning there!
SPRING: Centre Point, 181-185 Gloucester Road, Wan Chai
Buy or rent an apartment in Wan Chai
4. Creatreading – Central, Prince Edward, Fo Tan and more
A lot of kids are enrolled in different playgroups for learning English, but what about learning Chinese? Shouldn't young children learn this important language when they are in Hong Kong? The reading and Putonghua courses are essential for the rapid demand in Chinese learning. The courses are designed for 3 to 6 year old students, which includes Chinese reading skills, English pronunciation and memory methods.
There are several branches on Hong Kong Island, Kowloon and the New Territories, which is convenient for the busy parents. If you're a fan of famous local singer Eason, his daughter is one of the students there!
Creatreading Central: 2105, Universal Trade Centre, 3 Arbuthnot Road, Central
Buy or rent an apartment in Central
Buy or rent an apartment in Fo Tan
Buy or rent an apartment in Sha Tin
5. Artco Gallery – Kowloon Tong, Ho Man Tin
It's no good for children to only focus on the language side of learning – other talents are also critical for their development to help them enrol to a good kindergarten or primary school. Artco Gallery provides various courses in painting, clay art and ceramics at their centres located in Kowloon Tong and Ho Man Tin. Fun fact: your kid might be in the same class as famous director Peter Chan's daughter!
Artco Gallery Kowloon Tong: G/F, 8A1 Grampian Road, Kowloon Tong
Buy or rent an apartment in Kowloon Tong
Artco Gallery Ho Man Tin: Room A2 Shop 11 G/F 124H Argyle Street, Homantin