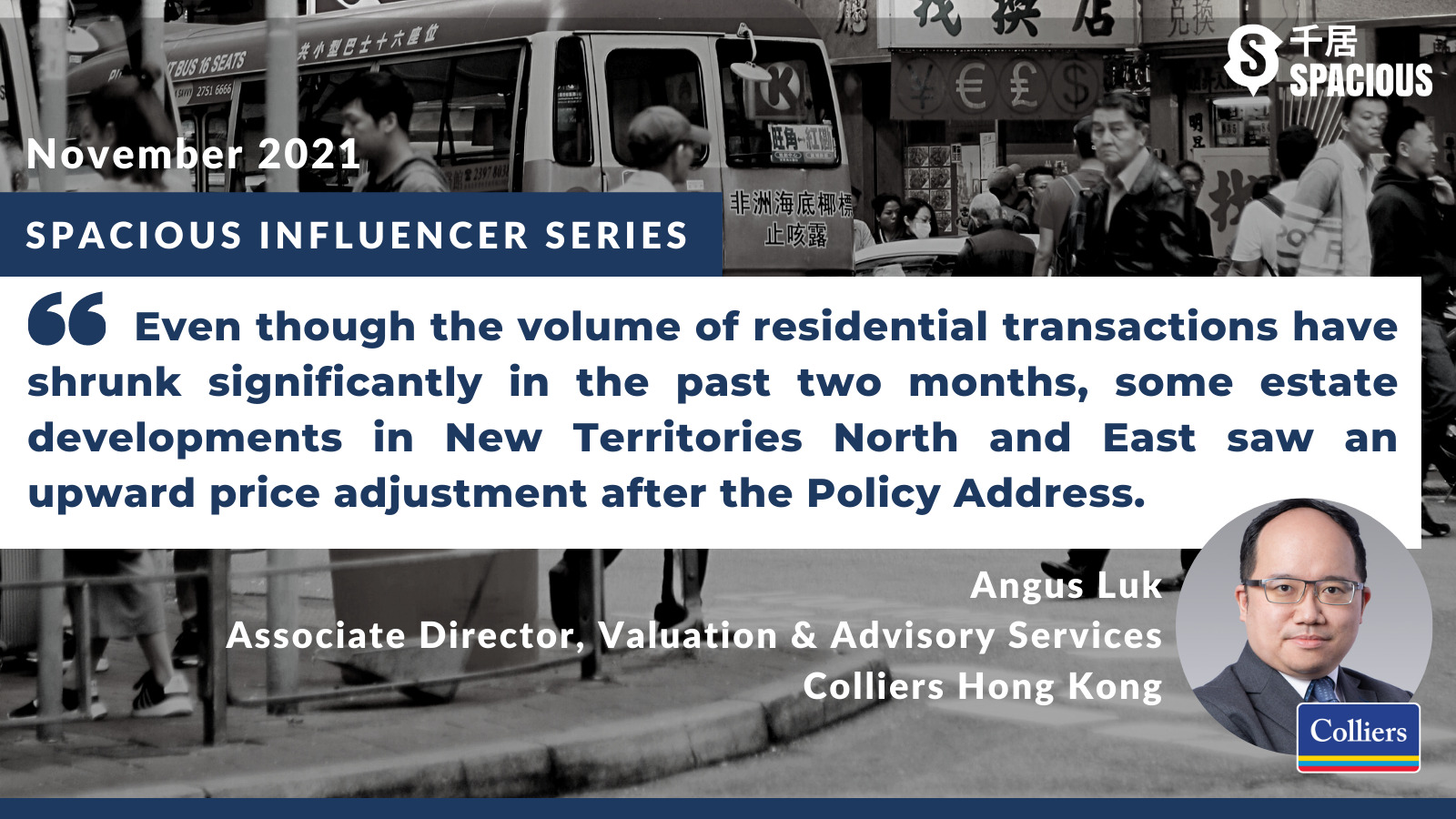 Spacious Influencer Series
By Angus Luk
Nov 2021 : Buyers look to the New Territories after Northern Metropolis plan is announced
While the market generally paused for Carrie Lam's Policy Address on 6 October, the New Territories towns began reaping the benefits of the Northern Metropolis plans. Lam highlighted measures to tackle Hong Kong's housing and land shortages, outlining the Northern Metropolis development strategy to create more land resources for residential, IT and other uses in the next 20 years. 
It is interesting to see how Hong Kong's real estate market has fared since. In October 2021, Hong Kong recorded 6,238 property registrations, according to data from the Land Registry. This number was down 16% from September's 7,402. October was the lowest registration number for the past nine months, reflecting investors' hesitation after the Policy Address. 
The total property registration value during the month also fell by 7% to HK$63.162 billion. That figure has fallen for three months, with last month's figures being the lowest in the past eight months.
In the residential sector, last month's first-hand private home transaction registration volume fell the most. From late September to early October, the market paused before and after the Policy Address, which led to a decrease in transactions. 
As a result, the registration of first-hand private home sales in October fell by 34% month-on-month, with 1,275 transactions recorded. This figure made October the fourth-lowest month this year. However, with many high-priced transactions recorded during the period, the total registered value fell only slightly by 4% at HK$20.304 billion. The top three new developments that attracted buyers' attention were La Marina, Wong Chuk Hang (233 transactions), Wetland Seasons Bay 1, Tin Shui Wai (204 transactions) and LP10, LOHAS Park (167 transactions).
From mid-September to early October, the second-hand housing market was also affected by the wait-and-see sentiment around the Policy Address, with the added pressure of the holidays and the typhoon resulting in a continued decline in second-hand transactions. In October, registrations for second-hand private home sales fell by 13%, with 3,058 registrations, taking figures to a 14-month low since September 2020. The total value of registrations fell by 10%, for HK$29.477 billion.
Even though the volume of residential transactions have shrunk significantly in the past two months, some estate developments in New Territories North and East saw an upward price adjustment after the Policy Address.
By comparing past transactions in the same developments, we see Fanling's unit rates rose 0.2% to 3.2%. The bump was in developments under 21 years old. Buyers prefer newer developments if they are buying a property that is not close to an MTR station. Therefore, older properties such as those from the '80s or '90s may not see their prices increase.
Recently most transactions in Sha Tin rose in value, mainly in traditional developments near the MTR station. Three were more than HK$10 million, buoyed by the Northern Metropolis development strategy. Flats that sell for more than HK$10 million are not "starter homes", so buyers need to make a 50% down payment. Furthermore, those buyers won't get a high ratio mortgage but keep putting their money into the residential markets because they are optimistic about the future.
Geographically, Tai Po is near the Northern Metropolis development, and figures show a 3% to 9% rise in unit prices, higher than Sha Tin and Fanling. Some sales were special units with parking space and a garden, and buyers would struggle to find something similar in the same price range in more urban areas. These luxuries entice buyers to choose flats in the New Territories, with the bonus of larger homes with more privacy. 
The Arles in Tai Wai came onto the market in mid-October. Over the weekend of 16 and 17 October, 450 flats were sold. By the end of the month, 814 of the total 1,335 units had been snapped up. 
Overall, the market reacted positively to the Policy Address as uncertainty has cleared. In addition, there are currently no short-term measures to change the problem of insufficient housing supply. We can believe that with the pandemic being stable and the continued improvement of the economy and unemployment rate, the secondary market will rebound. At the same time, commercial, industrial and other properties have also been steady.
---
Find or sell properties on Spacious
---
By Nigel Smith
Sep 2021:Sentiment may be soft, but it is not all bad news
After weeks of bumper housing sales, market factors, and a story from Reuters news agency, dampened market sentiment just before the Mid-Autumn festival. The report, which the Government swiftly dismissed as a rumour, claimed Beijing had asked a few of Hong Kong's top home developers to do more to alleviate the city's housing crisis. This and market factors made for a bumpy ride around Mid-Autumn as prices began to turn. 
Many buyers felt that prices might fall further, so they held on for better deals; others on the brink of signing deals might have felt a twinge of uncertainty. Hong Kong's housing market fell sharply, and we do expect that it will have wiped out the 7% gain it had made since the beginning of the year by the end of the year. 
Swift government action and the Real Estate Developers Association saying they had heard nothing of the sort tempered the shock. But, in the exchanges, the message was clear; developers need to do more to fix the city's housing shortage. And they are more than willing to do so. Some, like New World and Henderson, have already started
In the long term, this is not bad news at all. Having more homeowners in the market will be positive, and there will still be an imbalance between supply and demand, just not one so acute that it cuts large swaths of the population out of the market. Hong Kong's housing shortage needs attention, and there is a way to make homes more cheaply without lowering the square foot price – making smaller flats. 
If developers choose this route, the entire market should not be too affected. They cannot immediately drop thousands of flats onto the market; those will take time to plan and build.
But people who want to buy now, especially first-time buyers who were ready to make the leap, might be a little glum. There are two ways to mitigate the risk.
Consider making a larger downpayment to guard against any further drop in prices.
Do your homework before committing, and be certain that you will be able to make mortgage payments for at least the next three years.
It's worth remembering that the Reuters story was not the sole cause of the downbeat market. While prices had been increasing, the volume of transactions was relatively low, showing that prices were even higher for the few transactions that were taking place. The reboot might hurt now, but the market will come back stronger once it digests the excess.
Let's see what comes out of that all-important policy address, which might change the playing field.
---
Find or sell properties on Spacious
---
By Nigel Smith
Aug 2021:Hong Kong's stamp duties mean buyers and sellers need to be patient
In some places in the world, investing in multiple properties is considered a good thing as it almost guarantees a post-retirement income. In fact, some areas encourage their residents to do just that. Not so in the Hong Kong SAR, though, where space is premium and investors with bottomless pockets could make easy money.
Before 2010, speculators could buy a property and sell it within a week, making HK$100,000 in the process which bumped up the market value.
These conditions left many residents unable to afford homes of their own, caught between earning too much to be eligible for public housing but not enough to be a homeowner. These circumstances have led to considerable disgruntlement among this "sandwich class" and were one of the factors behind recent social unrest.
In response, the government introduced a stamp duty in 2010 to cool the market by controlling resale times. They taxed owners who sold their property within three years, taxed owners who already had a residential property, and taxed non-permanent residents and buyers who used company names.
While the tax does not affect first-time homebuyers who are permanent Hong Kong residents, it can dramatically change the price of a property.
In Hong Kong, there are three categories of stamp duties you need to know about if you are buying or selling property:
1. Ad Valorem Stamp Duty (AVD) for Residential Property vs Non-Residential Property
2. Special Stamp Duty (SSD) is paid by buyers, depending on how long they have held the property.
3. Buyer's Stamp Duty (BSD) paid by non-Hong Kong Permanent Residents and residential buyers who buy under a company name. 
Last month, all residential stamp duties fell, but they had risen by more than 50% year on year in the seven months before. Stamp duty on new homes alone increased by about 66.7% year-on-year in the first seven months.
Buyers and sellers need to bear these extra costs in mind when facing transactions. Nevertheless the market is still rebounding, especially the luxury residential market for homes costing more than HK$20 million.
From May to June this year, developers sold many new flats, most in a good location with MTR access. These were so attractive to buyers that many who already owned one home were willing to pay 15% more in stamp duty. Second-hand flat prices increased rapidly from January to April, and sellers didn't mind paying the SSD as the value of their homes had grown to offset the cost.
If buyers hold on to their property long enough, they could see an increase in value that will offset the tax and leave them with a modest profit.
---
Find or sell properties on Spacious
---
By Nigel Smith
July 2021:Government's focus on public housing puts squeeze on new private stock
We all know what happens when weak supply meets strong demand. And that's about to happen to Hong Kong's private residential market. Gradually, supply has come under pressure from natural demand. But, the pandemic has seen construction falter and a new government announcement has further decreased supply.
Projections for the next 10 years show the government's promised swing towards more public housing will leave a wider gap between supply and demand on the private front. The projected total housing-supply target for the 10-year period from 2021-22 to 2030-31 is 428,000 units (rounded to 430,000 units). This overall supply target has not moved from projections for the previous two years. 
But in 2018, the government committed to increasing the supply of public housing, which naturally means fewer new units coming on to the market in the private residential sector. The government has revised the public/private split of new housing supply from 60:40 to 70:30. Out of the total supply target of 430,000 units in the next 10 years, public housing will get around 301,000 units and the private housing market will only get around 129,000, for an average annual supply of 12,900.
Last year, there were 63,308 property transactions, comprising private and subsidised home sales. We believe only around 12,900 were sales of new private flats, with around almost 31,000 second-hand sales.
Hong Kong's luxury residential sales have a so far this year – particularly in homes costing more than HKD20 million. This trend follows the global market which has responded to the maturity of the COVID-19 pandemic one year on, and to the hope brought about by the global vaccination programme. Record-breaking sales figures point to high demand.
The 10-year projection of private housing supply assumes developers will finish properties on time, which as we know often fails to happen. Not only does construction have to be kept on track, but materials must be delivered without supply interruption.
If nothing changes, we can expect private housing prices to be stable in the next five to 10 years overall, but as demand increases, prices will rise.
---
Find or sell properties on Spacious
---
By Nigel Smith
June 2021: Next stop, Sung Wong Toi!
Getting in on the ground floor of a good property investment could be as simple as knowing where new MTR stations are being built and taking a leap of faith before the details are confirmed.
In 2016, two new urban MTR stations opened which significantly raised property prices in the vicinity – Whampoa and South Horizons Stations. 
Whampoa Station opened on 23 October 2016, and before the confirmation of the opening date, residential unit rates were between HK$11,000 and HK$13,000. After the Government announced the actual open date, unit rates began to increase and did so all the way up to the end of 2019, creating a new range of between HK$13,000 and HK$15,000, up 15% to 18%.
Similarly, on 28 December 2016, when South Horizon Station opened and prior to the confirmation of the opening date, unit rates were between HK$12,000 and HK$15,000. Not surprisingly, after the opening date was confirmed, there was a comparable increase in unit rates of HK$14,000 to HK$17,000. So, within the same year (2016), prices increased by 13% to 16%. 
Skip forward to 2021, and on 30 May, when it was announced that the Sung Wong Toi station in Kowloon City will open on 27 June 2021, along with the rest of Phase 2 of the Tuen Ma line, we are seeing the same trend occurring.
Looking at the latest transactions and asking prices of the 12 residential developments in Kowloon City closest to the new MTR station, we can see that prior to the confirmation of the opening date, unit rates were on average HK$16,000 to HK$19,000. After the announcement on 30 May, the unit rates jumped to an average range of HK$20,000 to HK$23,000. If you were savvy enough to buy in May, you could have potentially seen your investment increase by over 20% and still see further gains as the year moves forward.
Obviously, timing the sale of a property is everything and the Hong Kong market can be unpredictable, but it pays off to research what is going on in the vicinity of where you wish to invest. The inevitable expansion of the city's transport nodes to find new space and create convenience is so important to the strategic future of Hong Kong, so investing close to a "soon to be built" MTR station will usually reap the rewards.
---
Find or sell properties on Spacious
---
May 2021: Hong Kong residential market dazzles
If only we had a crystal ball… who would have guessed that residential sales transactions would have increased by 26% YTD? When comparing the first third of the year (January to April 2021) to the same period in 2020 the increase is even more impressive at 62%. Looking globally, this growth reflects the market's response to the maturity of COVID-19 one year on as well as the hope brought about by the global vaccination programme. Stepping away from the macro-economic drivers, let's look at the Hong Kong-specific data in a bit more detail.
Jan-Apr 2021 vs Jan-Apr 2020 by purchase price
| | | | |
| --- | --- | --- | --- |
| Purchase price (HK$) | 2021 transactions | 2020 transactions | % Change |
| <10M | 24,164 | 16,163 | 50% |
| >10M to 50M | 6,380 | 2,630 | 143% |
| >50M to 200M | 205 | 157 | 30% |
| >200M | 25 | 7 | 257% |
| Total | 30,774 | 18,957 | 62% |
Between January and April, sales in the "Under HK$10m" category increased by 50% YOY, benefitting from the Mortgage Insurance Programme announced by Chief Executive Carrie Lam in the 2019 Policy Address, which allows first-time home buyers to receive a mortgage loan of up to 90% of the property's value (a significant change from the previous 50% limit).
The "HK$10M to HK$50m" properties enjoyed even higher growth rates likely due to increased demand for larger living spaces as more people work from home and their children learn from home due to COVID-19.
Though the number of transactions is small, the January and April 2021 growth is impressive in the "Over HK$200m" band. The reasons are as follows:
Investors' confidence returned due to less political instability and the ability to deal with new waves of COVID-19.
Developers launched more ultra-luxury homes in this period, many of which were purchased by buyers from the PRC where the economy has rebounded quickly.
Buyers believe the "Fung shui" is better for wealth and good health in traditional luxury districts.
Without a crystal ball, one must look at both the global and local economic drivers and at Colliers we believe that they continue to point in one direction – up!
---
Find or sell properties on Spacious
---
August 2020: The residential market is generally holding albeit jitters around economy and National Security Law
The residential market is generally holding albeit there are jitters around the economy and the National Security Law. A recent survey conducted by the American Chamber of Commerce in Hong Kong showed that while many of their members are concerned, many are not planning on leaving. Given this, while there may be some short-term volatility, longer-term prospects are positive, as the fundamentals remain solid. The main reason being that Hong Kong is a supply-challenged market. Take the second-hand market as an example where future supply will not catch up with the demand. Current annual supply of second-hand flats is around 22,500 (including private and Government flats). Yet annual supply for Hong Kong has to be between 30,000 and 40,000 flats annually to meet with the current demand.
Mass residential price may stay largely flat this year, as the second half could see some downside risks due to a weaker economy, offsetting the 2% rise in the first half. But the market below a price tag less than HK$10 million will remain active due to favourable mortgage options. Luxury residential is moving but slower as the lump sums are larger. Needless to say, these will all speed up if the Government make positive changes to the current restrictive policies. That said, we are seeing an increase in PRC capital and local levels remain healthy as well.
---
Find or sell properties on Spacious
---
June 2020: The introduction of the national security law has given the market some confidence in pricing as some owners see the opportunity of long term stability
The residential market has not been as affected as other sectors since the pandemic spread around the world. More recently, the introduction of the national security law has given the market some confidence in pricing as some owners see the opportunity of long term stability. Buyers seem unperturbed and demand for housing remains strong, as the government eases social distancing measures. To that end, we have witnessed a revival in buying interest as homebuyers snapped up 680 out of the 699 units for sale of Wetland Seasons Park phase two development over three weekends. In Cheung Sha Wan, buyers bought all the 282 units on offer at The Campton in two weekends.
For the leasing market, activity remains subdued as tenants are looking to landlords for rental concessions. With the uncertain economic outlook, landlords are likely to offer rental concessions to avoid rental voids, agency fees and renovation costs.
Looking ahead, pricing in Q3 will continue to be volatile because of general market sentiment. That said, I am still optimistic about the residential property market given the low interest rates and the fact that Hong Kong is a supply-challenged market.
---
Find or sell properties on Spacious
---
March 2020: Uncertainties yet to have drastic effects on home prices as owners display strong holding power
This year has certainly not started the way it was envisaged. We said it would be a buyer's market and it is one. February showed a bit of increased momentum for first and second-hand sales transactions. However, prices are not as low as might have been expected – despite the fact that home prices are no longer among the fastest-growing on the planet, as demand has been rather thin. Yet strong holding power means uncertainties haven't had drastic effects on prices. We believe that's it's time to buy and invest at every level – whether in 8M-10M properties with good LTV, on the mass market where great assets can be snatched up, or at the luxury level where unique assets can be found.
All told, the residential market is probably the most resilient, given that it is supply-challenged. Even when assets are sold at rock-bottom prices or under bank valuation levels, the seller can still book a profit. 
On the development side, private housing has seen an increase of about 25% on average over the past five years. It has been estimated that 19,600 residential units will be completed and go on to the market annually from 2020 to 2024.
---
Find or sell properties on Spacious
---
December 2019: Investment appetite remains positive despite the local market turbulence
Most Hong Kong-based investors demonstrate a positive investment appetite, despite the challenges in the local investment market. We expect the next 12 months will be a buyers' market as investors look for discounted prices amid likely longer negotiations to close a deal.
According to Colliers newly published Hong Kong Annual Investor Survey Report 2019, over the next 12 months, 71% and 89% of the investors are looking to deploy capital within and outside of Hong Kong respectively. Within the Greater Bay Area (GBA), Shenzhen, which has been promoted by the Chinese government as a model city, captured the most investment interest (57%), while London, Shanghai and Singapore are the most popular markets for investments further afield.
Investors have exhibited more caution with 73% indicating that they are "unlikely" or "not at all likely" to take on more risk. However, most (57%) are still seeking opportunities with higher returns through a value-add strategy while yields remain low across different sectors in Hong Kong. We recommend CBD strata-title offices, which will likely see discount prices in 2020 yet carry a high upside potential. Investors with value-add strategy can also ride on the resumed Revitalisation 2.0 scheme to pinpoint industrial asset enhancement or redevelopment opportunities.
---
Find or sell properties on Spacious
---
August 2019: The Hong Kong residential market demonstrated resilience
The Hong Kong residential market stayed firm despite a slower economic outlook amid the recent market turbulence, according to the latest Colliers Q2 2019 research report.
Purchasing demand continued its strong momentum in Q2 2019. According to the Land Registry, the total number of transactions surged 49% QOQ to 20,657 in Q2, the highest number since Q3 2012. Buyers were keen to purchase when prices bottomed out, considering the potential risk of price increases making purchases even harder in the future. Meanwhile, the numbers of primary market transactions increased by 36% QOQ. New developments such as Grand Montara in Tseung Kwan O and Mount Regency Phase II received strong market responses and were overly subscribed in several rounds of sale.
As for the luxury residential market, leasing momentum remained active especially during the period before summer holidays while pay packages for expatriate staff are still on the rise. Meanwhile, the leasing market also witnessed increasing requirements from mainland Chinese professionals, which became a new demand driver supported luxury residential rents to stay firm.
Looking into the second half of 2019, we believe the primary market will continue to drive the purchasing momentum in the Hong Kong residential sector, while it is widely expected that more new residential projects are going to be launched in the next couple of months. The more dovish tone of the US Federal Reserve to keep the US interest rates low and stable in 2019 should provide another layer of support to counterbalance some of the cautious sentiment brought by the economic and local uncertainties.
---
Find or sell properties on Spacious
---
July 2019: New schools and residential supply raise attractiveness of Kowloon and the New Territories
The Peak, Mid-levels and Southside lead demand among both local and expatriate families due to their prestigious Hong Kong Island location, their proximity to Central and a strong international school network. However, the increasing supply of residential flats and school campuses in other areas have prompted more tenants to look beyond these traditional luxury districts.
New international school campuses and high new supplies of housing in Kowloon and the New Territories are garnering the attention from professionals and expatriates looking to lease larger flats. We have observed that Tseung Kwan O and Tai Po, which have a total of four new international school campuses opened during 2018/19, have been slowly gaining popularity and are increasingly desirable for young professionals with lower spending power than their more senior colleagues.
According to Colliers' estimates, the rental spread between Hong Kong Island, Kowloon and the New Territories is wider for larger units. For instance, a three-bedroom apartment on Hong Kong Island could cost 60-80% more than that in the New Territories. With reference to the latest market transactions, with a monthly rent of about HKD40,000 (USD5,130), tenants can choose between a 745 sq ft two-bedroom luxury flat at Bel-Air in Pok Fu Lam (Hong Kong Island) or a 1,144 sq ft three-bedroom luxury flat at Mount Pavilia in Clear Water Bay (New Territories).
Looking ahead to the rest of 2019 and 2020, Tai Po and the Sai Kung District (which includes Tseung Kwan O and LOHAS Park) are planned to have the largest quantity of new residential supply, with 7,513 and 6,578 units, or 18.5% and 16.2% of total supply, respectively. Meanwhile, these areas should also provide a high quantity of large units, with sizes of over 1,076 sq feet (100 sq metres).
---
Find or sell properties on Spacious
---
About Spacious
Spacious is Hong Kong's fastest-growing, award-winning and best-known internet real estate search platform. Spacious helps people or companies to find real estate that best suits their needs and budgets quickly and efficiently. Spacious is firmly established as the market leader in internet property search in Hong Kong and is expanding internationally by helping overseas businesses reach our highly engaged and valuable audience. Spacious is also expanding its domestic business into the Greater Bay Area, Shanghai and Taiwan.
---
About Nigel Smith
Nigel Smith is the Managing Director of Colliers International, a global real estate company operating in 68 countries.
With over 30 years of real estate experience, Nigel is an expert in Hong Kong's property market and has delivered outstanding results for many developers. Most recently he worked on 50 Connaught Road Central, a project which achieved the highest rents in the world and the highest capital value per square foot in Hong Kong.