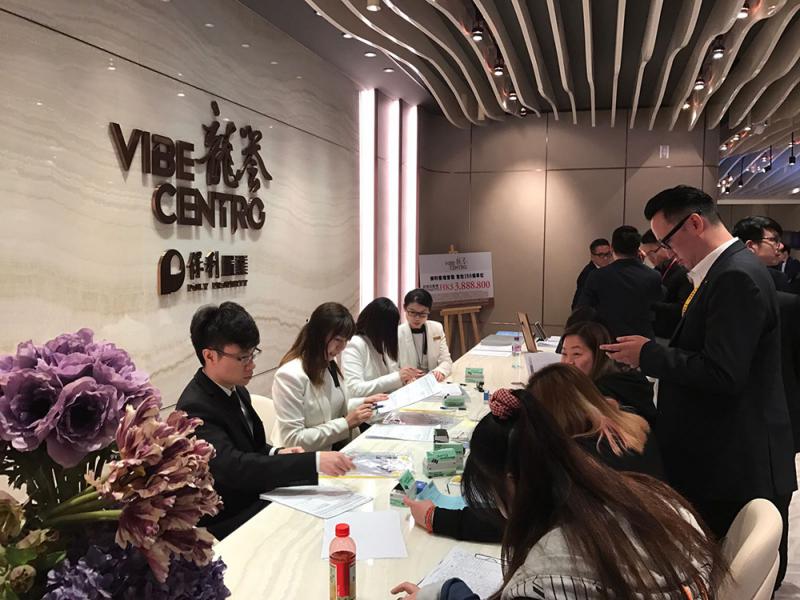 Vibe Centro launched extra 18 flats 
The new project Vibe Centro yesterday announced an additional sale of 18 flats which will be held on Sunday. Flats are located in Block 2B 12th-36th floors rooms A, C and G, with the one in Block 2B 12th floor room A being priced at the lowest at $24,928 per square foot. Approximately, the project has sold 370 flats in total, accounting for nearly 90% of saleable flats, raising total sales vale to over HK$3.8 billion.
Victoria Skye priced HK$17,888 on average
K & K Properties launched the first price list at its Kai Tak project – Victoria Skye, pricing units at HK$17,888 per square foot on average. In the first batch of 165 units, the project provides 25 one-bedroom flats, 118 two-bedroom flats, and 22 three-bedroom flats. Prices range from HK$6.694 million to HK$22.882 million, with the developer offering discounts of up to 18.5%.
Mount Pavilia tender sale of 7 flats
New World Development's project Mount Pavilia, announced yesterday a tender sale of 7 flats, including 4-bedroom flats in Block 11 room B with rooftops, of 1,837 square foot, being priced at HK$22,350. The project has sold 28 flats, cash in over HK$780 million, pricing at $2,0000 per square foot on average. The tender sale period starts from next Monday 10am and ends at 11am on the same day.
For more information on property news and prices, please visit our website at https://www.spacious.hk/ or follow our LinkedIn Page.