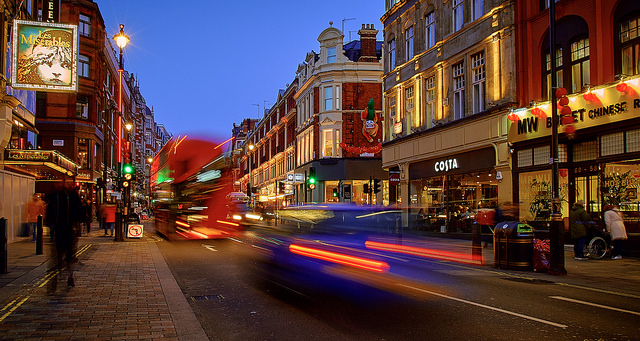 A lot of Hong Kongers are living in London, and even more students who had studied abroad in the UK ended up in the capital of the United Kingdom as well. Voted as the top city to visit by Tripadvisor for several years, what is so great about this city and why does everyone want to live there? Since I had lived in London for four years, I have a little insight on just what makes this historic capital great:
Weekend markets
Now I know what you are thinking, Hong Kong has markets too! But the type of markets I am talking about are more than just a place to sell meat, vegetables and fruits. Think PMQ and a high end version of the Ladies Market. From Antiques to Vintage Clothes, there are even more food markets dotted around the whole of London. You have Portobello Market in the northwest on a Saturday, made famous by the movie Notting Hill and are famous for Antiques in particular; on Sunday you have Brick Lane with its vintage clothes or my favourite Broadway market lined with delicious street food stores and quirky independent design and crafts. There is often the added bonus of street performers playing some sweet tunes!
Sprawling parks

It is no question that Hong Kong are pressed for green spaces around the city – but London is home to some spectacular sprawling parks. If you want to go see some rose gardens there is Regents Park, if you want to relax by a pretty lake, there's the Serpentine in Hyde Park; If you want to see the whole city then hike up the Primrose Hill. If you want to escape the center a little there's the famous Greenwich Park, and I haven't even named them all!
These parks are a favourite for joggers, and in the summer deck chairs will be pulled out for everyone to relax and enjoy the sunshine. And if you are up for some exercise, you can cycle around Richmond Park for the day and see if you can spot some deers!
Historic but modern

London has a long history. As the capital of Great Britain, an Empire that stretched across half the world, there's plenty of history in every corner. From Jack the Ripper in the East End to the imposing Tower of London next to the Thames, there's no shortage of historical monuments to learn or admire. But if you grow sick of these sights (which I would find hard to believe), you can venture to Canary Wharf and feel at home amidst the skyscrapers in the hub of the business district of London.
Vibrant Nightlife
London has a huge night scene suited for every budget. From nightclubs like Boujis that's often graced with celebrity appearances, such as Prince Harry to your party-till-6am destination like the Ministry of Sound, London is a city that never sleeps. They have a comprehensive route of night buses that will be ready to take you home, and did you know that they are opening up some of the underground lines for 24 hours on weekends soon?
Museums galore

It wouldn't be a historical city without museums. And the best thing about them is that they are all free to visit. You can learn all about the Egyptians and more in the British Museum, admire the fashion and art in the Victoria and Albert Museum, have a fun family day at the Natural History Museum and look at some of the most valuable finds in the world or learn more about the workings of this world in the Science Museum. Temporary exhibitions are not free, but who are we to complain?