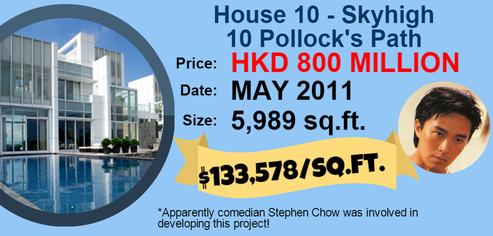 Hong Kong is notorious for its expensive homes, but how much do you know about the 5 most expensive homes in Hong Kong's history? Well, let's play detective here and consider our options for a minute. The most expensive area is likely to be Hong Kong Island, although we do occasionally get expensive individual houses in Kowloon and New Territories. And it probably wouldn't be in an apartment complex either, unless it's one of those costly penthouses with a jaw-dropping view of Victoria Habor. It's safe to say that the Peak is probably the most expensive area, as stated by monopoly from our childhood, but where exactly are these pricey real estates?
We are equally curious, here at Spacious, so after a little digging we found the infographic here. And surprise, surprise, we got some extra information to throw in here: it turns out that the famous comedy movie star Steven Chou supposedly took part in one of these expensive home's estate developments!
Let us do a countdown:
Number five and four are neighbors to each other, locating in Twelve Peaks. Wouldn't it be awkward if they see this and then have to say hello to each other?
Number three is on the Gough Hill Road, not too far from number five and four. However, despite the proximity, there is a staggering increase of HK$7,000/square feet already! This infographic really is not for the faint of heart to read.
Luckily, number two isn't all that more expensive than number three. Staying around the Peak, this one is on Baker Road.
Now onto numero one – another hK$7,000/square feet higher (I am sensing a little bit of a pattern here). This home belongs to a housing estate that Stephen Chou allegedly was involved in planning. And hey – they have a pool and everything. Who can afford these prices nowadays anyway? No wonder everyone is moving to the New Territories, like Sha Tin and Tai Po.