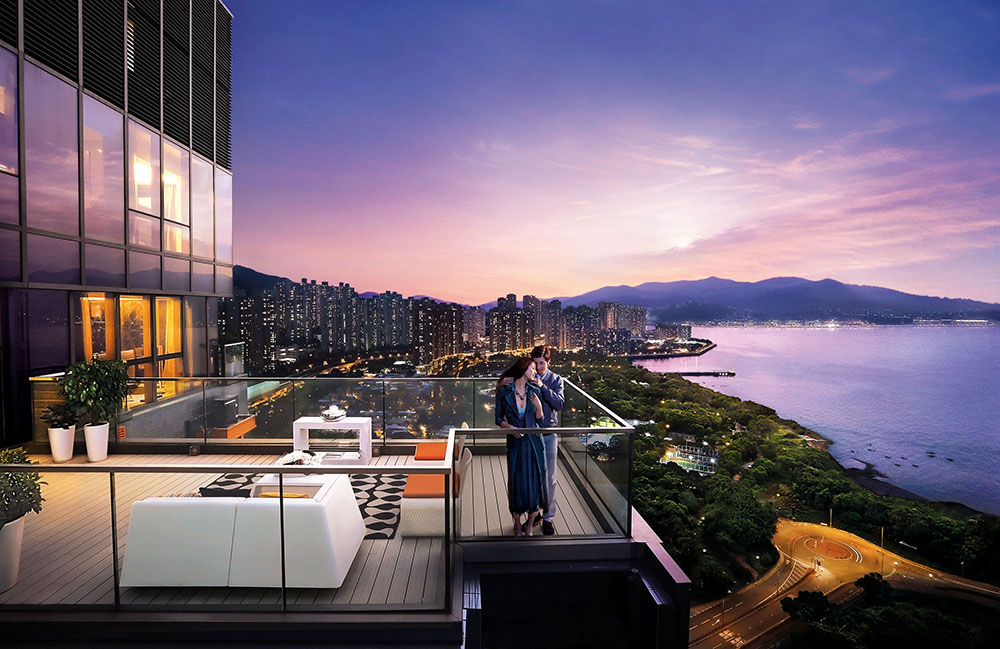 The high density of high-rise buildings in Hong Kong always gives people struggle to live and breath. People here would love to escape from the skyscrapers city, even with a higher cost of time and money. To live in an apartment with stunning sea-view might be one of the options to get you relaxed from the lego-like crowds. Spacious presents you five 'livable' districts with great sea-views, which you could enjoy with your loved ones!
(1) Ma On Shan
Being one of the new favorite places of local developers like Henderson and Cheung Kong, Ma On Shan has been a precious district surrounded by the great nature. After the opening of Ma On Shan MTR Line in 2004, the district has become more and more popular.
The newest private residential project in Ma On Shan – Double Cove might explain why living in this area can be so relaxing. Hugging Tolo Harbour and two beaches (Wu Kai Sha Beach and Starfish Bay), the last tower (Tower 15) from Double Cove Summit is no doubt the best place in Ma On Shan to enjoy the sea-view day and night.
(2) Clear Water Bay
Clear Water Bay has been one of the traditional luxury residential areas in Hong Kong. Most of the houses in this region are equipped with garden and private pool, giving you the highest privacy and living standard. Living in Clear Water Bay, you can watch the spectacular view of Port Shelter (Ngau Mei Hoi) and the two beaches at home that you would never get tired of.
Listing:The Rivera
Net Area:2,145 square feet
Selling Price:HK$65 million
More information:Please click here
(3) Tai Koo Shing
If you would like to live in a sea-view home, yet you don't want to sacrifice the convenience of living in urban area, Tai Koo Shing would be your choice. Located in the hub of Hong Kong Island, one can easily access different part of the city by public transport.
Harbour View Gardens neighbors Quarry Bay Park and the waterfront of Victoria Harbour. The only downside is that the supply of sea-view units in Tai Koo Shing has been quite insufficient. For people who are interested in the Eastern side of Hong Kong Island, you may consider Lei King Wan or Grand Promenade in Sai Wan Ho instead.
Listing:Harbour View Gardens, Tai Koo Shing
Net area:1,114 square feet
Selling Price:HK$23.8889 million
More information:Please click here
(4) Ma Wan
Want to take a romantic stroll on the beach with sunset in the evening? It might be a daily habit of Ma Wan's Park Island residents! You can enjoy the exclusive view of Tsing Ma Bridge and Tung Wan Beach, and also quiet surroundings in Ma Wan. The drawback would be the relatively inconvenient transport to the island.
Listing:Park Island
Net area:1,372 square feet
Selling price:HK$15 million
More information:Please click here
(5) Gold Coast
Hong Kong Gold Coast is the largest tourist resort in Hong Kong, with 20 residential buildings, a shopping mall, a yacht and country club, a marina and a beach. Located between Sham Tseng and Tuen Mun, you can have access to both urban and rural areas of Hong Kong easily and conveniently.
Sino Land has recently revamped Tower 21 of Hong Kong Gold Coast, the closest tower to the waterfront in the area. The units sizing from 875 to 1,069 square feet would be open for lease for a monthly rent of at least HK$26,000.