Are you tired of annoying "physical trainers" (they're really not) constantly harassing you? Having to wait in line for someone to finish their bicep curls at the squat rack? Or simply want to consider a gym with less people and better equipment (looking at you, weight-lifters)? Here are 5 Gyms in Hong Kong that you've (likely) never heard of:-
South China Athletic Association ("SCAA")
That's right, the SCAA in Causeway Bay has a gym with fairly good facilities! For those looking to do more strength building related exercises, our understanding is that SCAA is very weight-lifting and power-lifting friendly! The SCAA has multiple plans to choose from that seem quite flexible, and the prices seem to indicate that they are one of the cheaper gyms in Hong Kong.
9 Dragons Fitness
Located in Tung Chung, Lantau Island, 9 Dragons Fitness is a fantastic gym with excellent facilities for almost all kinds of workouts! The good news is, they've recently merged with Epic MMA and Fitness, which means that members could have access to even more facilities and classes. They offer 12 promgrams from CrossFit and Yoga, to Aerial Silk and Pilates, so there is something for everyone
Anytime Fitness
Not exactly a 'small' gym, but these folks have opened up two gyms in Hong Kong very recently. Anytime Fitness has plans to open up at many more locations in Hong Kong, and guess what? They're all open 24-hours and supposedly very affordable – plus, a membership in a Anytime Fitness gym grants you access to all Anytime Fitness gyms globally! Right now, they have two gyms in Kowloon City and Sai Ying Pun, and the gym in Kowloon City is offering a free pass too!
Pinnacle Performance
Pinnacle Performance is a gym located in Wan Chai that focuses on strength and conditioning workouts. While their monthly prices are not cheap, power-lifters and weight-lifters will be happy to know that this gym has multiple squat racks, benches, and plenty of weights to go around. Though it's hard to compare, Pinnacle Performance seems to be one of the best gyms in Hong Kong for serious lifters, body-weight workouts and general strength training.
Franco's Gym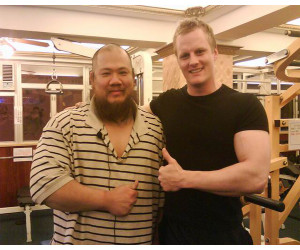 Don't be put off by their website, but Franco's Gym is a relatively inexpensive gym for weight-lifters and body builders. Just check out the photos of their instructors – very impressive! Franco's Gym has two locations in Mong Kok, and they require you to attend 9 training sessions for the first three weeks before you can sign up for a membership – they're very strict about members learning proper form, technique and etiquette! For expats, this seems to be one of the few 'local' gyms in Hong Kong, but that should not act as a deterrent to the path of more gains!
Note: Spacious has not been paid by anyone to write or promote any of the content in this blog article.